The Last Rocky Show
After 150 years of publishing, the Rocky Mountain News printed its final edition on Friday. The Rocky became the first major U.S. metro daily to fold since the Cincinnati Post did so in December 2007.
The final front page of the Rocky, a retro remembrance: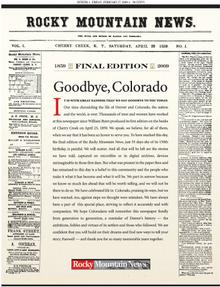 Columbia Journalism Review invited former Rocky staffers to express their feelings. The reaction ranged from relief, sadness, introspection to anger. What is most admirable, however, is that however they felt, they put out one heck of a final edition, as any good journalist should:

Final Edition from Matthew Roberts on Vimeo
Editor John Temple offered a few final thoughts on why Denver will cease to be a two-newspaper town:
(T)here's plenty of fault to go around. It costs more to produce two newspapers than one, because you have to pay for two newsrooms. Also, producing two newspapers introduces more complexity to the daily operations of the agency and adds more costs to its operations. That might have been OK at a time when newspapers typically were highly profitable, but became an enormous challenge when they were not.

A JOA is an unwieldy bureaucratic structure not suited to success in today's rapidly changing media environment. A JOA has been a way for Congress to keep two voices alive in a community. For newspaper owners, historically JOAs have been the equivalent of annuities. They calmed a competitive situation and spun off cash on a predictable basis.

But not anymore.