Philadelphia Story: Bankruptcy
Philadelphia Newspapers LLC, the JOA that runs the Philadelphia Inquirer, Philadelphia Daily News and the shared online portal philly.com, filed for Chapter 11 bankruptcy protection on Sunday, becoming the fourth newspaper holding company to do so in the last three months.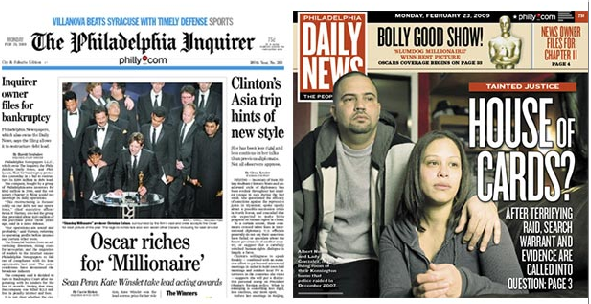 The company is seeking to restructure its $390 million in debt, brought upon in part by the downturn in advertising over the last year. The company apparently had been in negotiations with its creditors for 11 months but was unable to reach a settlement.
A day earlier, the Journal Register Company, which owns 20 small dailies in the Philadelphia and Cleveland areas as well as in Michigan, filed for bankruptcy to seek relief from its debt of over $1 billion. That came after the Minneapolis Star-Tribune and the Tribune Co., owner of the Chicago Tribune and Los Angeles Times, also filed for bankruptcy in January and December, respectively.
Two other papers' fates likely will be determined next month: The Seattle Post-Intelligencer and Rocky Mountain News were both put up for sale by their respective parent companies as a formality in December. If no buyer is found - and so far there hasn't been any interest - the papers would cease publication before the end of March.
The P-I's staff is meeting Tuesday to discuss a proposal that would allow the employees to buy out the paper and save it from extinction. The P-I's rival Seattle Times, itself in severe financial distress, is lobbying Washington State lawmakers to reduce business tax levied on newspapers.