Next To Go ... News Magazines
While the news isn't good from the newspaper business, there is no time for schadenfreude from the news magazines.
Readership for the print editions of news weeklies have been in decline for some time. And last year, US News & World Report, the perpetual No. 3 news weekly, first cut back to publish only bi-weekly, then finally became mostly a web-only presence, publishing only monthly with consumer-guide type of issues.
It looks like Newsweek is headed in that direction, leaving Time as the sole U.S.-based weekly news magazine.
These (former) news weeklies will have to transform themselves, fast, as ad revenues continue to decline. According to the Wall Street Journal, US News lost a whopping 32% percent of ad pages in 2008. Time and Newsweek didn't fare much better, each dropping by about 19%.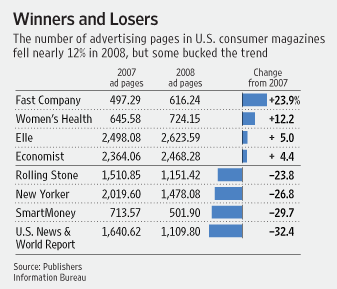 Source: Wall Street Journal
The problem is: How.
For a while, Time and Newsweek were busy transforming themselves into People Lite, featuring lots of fluff and celebrity "news." That didn't work, because people who actually want to read that kind of stuff will always choose the real deal - People, or Entertainment Weekly.
So they turned serious, allowing themselves to be engulfed by the election and then the financial crisis. That doesn't appear to be working, either. People who are really interested and engaged in domestic politics and foreign affairs typically already have their go-to sources for that kind of analyses. Time and Newsweek ain't it.
And there's the issue of neutrality. Both magazines still pretend to be straddling the middle, but in truth they're both left-leaning. If they were staking a ground in the middle, they might've been able to mine a new audience. In reality, they've been abandoned en masse by the right-center or right-leaning intellectuals. (These people do actually exist.)
Both magazines no doubt cast a glance at The Economist with envy. In fact, Newsweek is sort of trying to reinvent itself in the image of The Economist. Jon Meacham of Newsweek denies this - bristling at the credibility of The Economist with this brilliant line: I've got people out there risking their lives right now. The Economist is not, by the way ..."
But his confusion should come as no surprise. Meacham is the same guy who declared to Washington Post's Howard Kurtz: "I'm not ideologically driven by any means" - yet at the same time, dared anyone who disagreed with Newsweek's provocative gay marriage piece to challenge it:
Religious conservatives will say that the liberal media are once again seeking to impose their values (or their "agenda," a favorite term to describe the views of those who disagree with you) on a God-fearing nation. Let the letters and e-mails come. History and demographics are on the side of those who favor inclusion over exclusion. ... One era's accepted reality often becomes the next era's clear wrong. So it was with segregation, and so it will be, I suspect, with the sacrament of marriage.
So much for "not ideologically driven" ... as the readers are leaving in droves.