All the Ads That Are Fit to Print
Look at today's New York Times - the paper itself - and see if you find something unusual.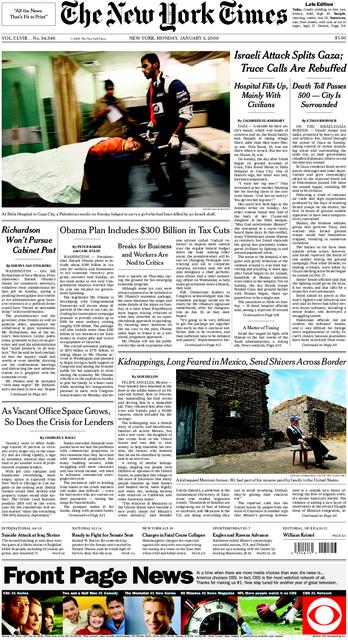 Yes, on the bottom of the front page, six columns across, is an ad, by CBS.
For the first time, the Times is selling front page space for display ads. The paper had occasionally run a few classified ads on the front page and display ads on the front pages of different sections - but never on A-1.
Chalk it up as yet another sign of the times.
This is not meant to pick on the NYT - far from it. Other leading papers - the Wall Street Journal, USA Today and Los Angeles Times - have been doing this for some time. The combination of dwindling circulation and a bad economy that's depressing ad revenues is forcing all media entities to think of new ways to scrape for cash.
The magazine industry is also hurting, with considerably fewer advertising placements for its January issues. And the decline is universal, as magazines as diverse as Wired, Vogue, Boating and Boys' Life are all among the 10 worst-hit monthlies.