A Pay-Per-View Future?
The raging debate in the media industry these days is centered on whether media entities - specifically newspapers - should charge for their content. And if their readers are willing to pay for it.
Pay-for-content certainly isn't a new idea. The New York Times launched "Times Select" in 2005, putting some of its premium content behind a pay wall and charged $49.95 annually for it. It lasted just two years before the Times abandoned it in September 2007. The Wall Street Journal and Financial Times maintain pay walls, but no other major U.S. or U.K. publications do so at this time.
Of course, with the current economic climate and plunging ad revenues, the pay-for-content concept is enjoying a rebirth - at least it's back in the conversation. Writing in the Times, David Carr pondered the possibility of an iTunes-like setup for newspapers to deliver the news, only to paying subscribers. It needs to go that way because the current model of online advertising just isn't going to pay the bills:
As a report by Craig Moffett of Bernstein Research stated last year, "The notion that the enormous cost of real news-gathering might be supported by the ad load of display advertising down the side of the page, or by the revenue share from having a Google search box in the corner of the page, or even by a 15-second teaser from Geico prior to a news clip, is idiotic on its face."
Slate's Jack Shafer responded to Carr's challenge by suggesting a Kindle-like device for the purpose of receiving the news - with subscribers paying a fee for the privilege. But Shafer admits that this model potentially would only work for the big dogs - the Times, Wall Street Journal, Washington Post, maybe USA Today and Los Angeles Times.
This is where the future of newspapers - at least in the U.S. - may be reaching a fork in the road. There will be national papers that provide national and international news coverage, do investigative reporting and publish commentaries from the top thinkers and movers. Other papers would have to become aggressively local, covering cities, towns and rural areas - and they could charge for this content, too, since they will be found nowhere else.
The success of any pay-per-view model, however, will hinge on the public's willingness to fork over the dough for stuff it's taken for granted for some time now. At the moment, less than 10% of the public is willing to pay $30 a year for currently ad-driven free sites. Mike Vorhaus of Advertising Age writes that "Consumers might 'hate ads,' but not enough to pay even as little as a few cents a day to avoid them."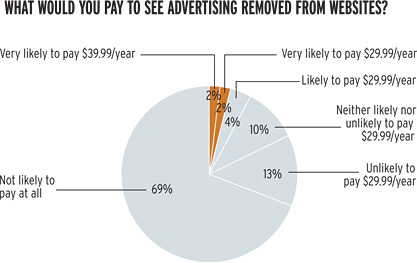 Source: Advertising Age
So the question remains: Will newspapers last long enough to finally get their readers to pay up for reading the news online?