Web Blows By Papers as News Source
For the first time ever, more people cited the Internet than newspapers as their primary source for news, according to the latest Pew Research Center survey, conducted Dec. 3-7 among nearly 1,500 adults in the U.S.
Currently, 40 percent of the respondents say that they get most of their national and international news from the Internet, up sharply from 24 percent in 2007. Newspapers remain the top source for 35 percent, about even with the past three years, but down significantly from the 50 percent as surveyed in 2003.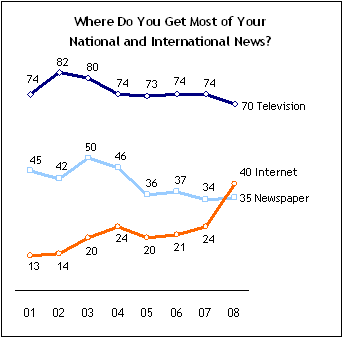 Pew Research Center
Television is still the top source for news, with 70 percent (multiple responses were allowed), though the web is closing in on it as well. Among young people (ages 18-29), the Internet has pulled even with TV, with each drawing 59 percent. Just a year ago, twice as many young people cited the tube over the web (68 percent to 34).
The Internet's gain in 2008 was partly fueled by the heated presidential election, during which a record number of people flocked to the web daily to get their political news. But the survey also confirmed perhaps the worst-kept secret in the media industry, that the viability of the printed press is in grave danger. The two trains have passed each other in broad daylight.