The Demise of Satellite Radio?
A little more than a month ago, former satellite radio competitors Sirius and XM merged their services. It was hailed as the beginning of a new era.
Or is it the end?
Satellite radio, which emerged only in the beginnig of this decade, is quickly becoming technologically obsolete. In the new world of saturated wifi and broadband access, the very concept of satellite radio is being questioned. And economically, the news is worse.
The newly created Sirius XM Radio Inc. is trading at about 12 cents a share. The company is $1 billion in debt, which is due sometime in 2009. Its biggest patron, the automakers of Detroit who outfit new models with satellite radio, are on the verge of bankruptcy and face an uncertain future.
Just four years ago, Sirius splurged by paying Howard Stern a record five-year, $500 million contract. Stern, once a ubiquitous presence on the radio, has virtually vanished from the public consciousness. Rest assured, there won't be another payday nearly as lucrative at the end of this contract. He just might retire.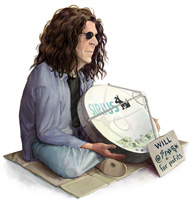 Matt Collins, New York Times
Meanwhile, old-technology (or "terrestrial) radio has defied all odds by plugging along. In July, Rush Limbaugh signed a new eight-year contract worth $400 million with Clear Channel Communications. Limbaugh said he never considered moving his popular franchise from the traditional network:
With 600 affiliates, that's an unmatched platform that essentially has ubiquity.
Much more ubiquitous than the vanishing satellites.