10 Senators Who Switched Parties
Wayne Morse
03.29.13, 02:37 PM CDT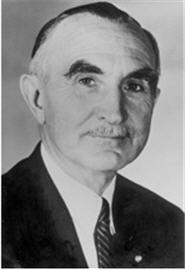 Wayne Morse
State: Oregon
Original Party Affiliation: Republican
Party Affiliation After Switching: Independent
Party Affiliation After Switching Again: Democrat
Wayne Morse represented Oregon in the Senate from 1945 to 1969 -- the first eight years as a Republican, the following two years as an Independent, and the last 14 years as a Democrat.
After opposing Republicans on economic issues as well as unions, Morse campaigned for 1952 Democratic presidential candidate Adlai Stevenson, and he listed himself as an independent when the new Congress opened the following year. "As the only third-party member on the Senate floor, he did not know where to sit, and set up a folding chair in the aisle between the Republican and Democratic sections," according to the Senate Historical Office.
Majority Leader Lyndon Johnson helped campaign for Morse to switch to the Democratic Party in 1955, giving Democrats control of the Senate. Subsequent decisions to vote against the the Gulf of Tonkin Resolution and support Eugene McCarthy in 1968 led to his defeat that year by Bob Packwood.