10 Candidates Who Spent Giant Sums of Their Personal Wealth
Ross Perot (Lost)
07.9.09, 11:54 AM CDT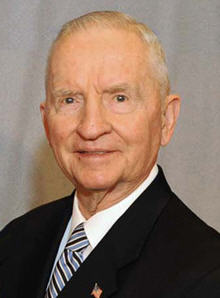 Ross Perot (I)
Race: 1992 President
Amount Spent: $63,500,000
Result: Lost 18.9% to 43%

A former salesman for IBM, Ross Perot eventually became a billionaire after founding Electronic Data Systems in 1962. In 2008, Forbes ranked him the 72nd richest person in the world with a net wealth estimated at $5 billion.
In 1992, Perot burst onto the national political scene with a surprisingly strong run presidential run as an Independent. At one point during the summer, Perot actually held a lead in the polls with 39 percent while George H. W. Bush's numbers fell and Bill Clinton struggled due to sexual allegations.
Perot unexpectedly dropped out of the Presidential race on July 16, citing threats about his daughter's wedding. Perot eventual reentered the race in September, but the damage had been done.
Ultimately, Perot spent $63.5 million of his own wealth ($97 million in inflation adjusted dollars) on the '92 race, winning 19 percent of the vote but no electoral votes. Nevertheless, it was best showing by a third party candidate since Theodore Roosevelt's Bull Moose candidacy in 1912.