The Republican Message Writes Itself
The talk among Republicans is that their November message should focus on repealing the new health care bill - or some version of repeal and replace. Meanwhile, other analysts have suggested that Republicans risk over-reaching and appearing too aggressive.
I think this debate is misframed. The Republican message is going to be put together by campaign strategists looking to maximize the number of votes won by their candidates. While there is something to be said for emphasizing repeal, I expect the Republican argument to focus on more visceral, immediate points. Here are the five big arguments we should expect the GOP to emphasize.
***
1. The Economy. This is the number one issue in every poll. If the labor market continues to be weak, expect Republican candidates to use that to great effect. They'll communicate the information contained in this chart :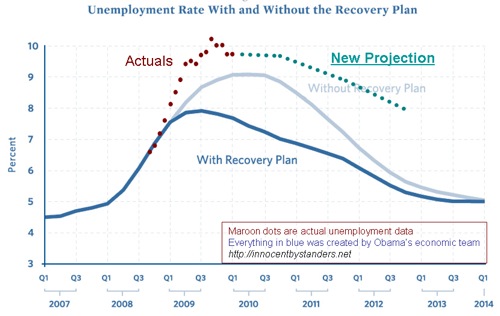 Obviously, they won't use this chart - but it's not hard to envision how some GOP ad man will translate the information in this chart into an effective advertisement.
Remember, it's not just that the unemployment rate is elevated. It's that the Obama Administration - and by extension congressional Democrats - over-promised on what the stimulus package would do for it.
2. Medicare. Call it Bob Dole's revenge. The 104th Congress tried to trim the sails of Medicare to preserve its long-run sustainability, and they were hammered by the Democrats for their efforts. This time, Republicans will return the favor - arguing against the hundreds of billions of cuts in Medicare that ObamaCare imposes to fund a new entitlement. Republican candidates will be sure to mention points like this, from CBO:
Under the legislation, CBO expects that Medicare spending would increase significantly more slowly during the next two decades than it has increased during the past decades (per beneficiary, after adjusting for inflation). It is unclear whether such a reduction in the growth rate of spending could be achieved, and if so, whether it would be accomplished through greater efficiencies in the delivery of health care or through reductions in access to care or the quality of care.
What effect will this have? Consider that in the 2008 presidential election in Virginia, senior citizens made up 11% of the electorate and went for John McCain, 53-46. In the 2009 gubernatorial election, they made up 18% of the electorate and gave Bob McDonnell 60% of the vote.
Gallup finds that seniors right now give Barack Obama just 40% job approval. That's bad news for Democrats.
3. The Deficit. If anybody doubts whether deficits can influence votes, look no further than the case of H. Ross Perot. He made fiscal sustainability a chief plank in his 1992 presidential campaign, and he pulled in a whopping 19% of the vote. That included 30% of the Independent vote.
The deficit is one of those issues that everybody understands. Everybody has to keep some kind of budget, and everybody knows that they can't get away with spending more than twice what they take in. The White House can call this a "new era of responsibility," but it's hard to square the claim with the numbers.
4. Taxes and spending. Combine the billions of new taxes in the health care bill with the $1 trillion from letting the Bush tax cuts expire, the $940 billion price tag of ObamaCare, and the $789 billion stimulus - and you have a simple GOP message: this is the biggest tax and spend government in American history.
Plus, expect Republicans to warn that the unsustainability of the deficit plus Obama's social welfare ambitions can mean only one thing: massive new taxes on the middle class. We could see ads using this clip:
5. Congress. This is one of the most unpopular Congresses in recent history, and Republicans will try to anchor incumbent Democrats to Nancy Pelosi, who is quite unpopular (the latest AP poll had her unfavorables at 51%).
We're going to see a lot of ads like this:

Democratic members already expect this coming. Witness, for instance, the number of members who are defecting on minor procedural matters. For instance,
seventeen brave House Democrats
voted with the Republicans on the highly controversial resolution yesterday to adjourn the House of Representatives! That includes 10 Democrats who just voted for ObamaCare but who were courageous enough to defy the Speaker's demand to send members home for Easter vacation: Chris Carney, Joe Donnelly, Brad Ellsworth, Jim Himes, Suzanne Kosmas, Harry Mitchell, Scott Murphy, Tom Perriello, Mark Schauer, and Joe Sestak.
Kidding aside, there is no other reason for such a vote than to lower the percentage of agreement with Speaker Pelosi.
***
These are the tried-and-true issues for Republicans to hit: jobs, Medicare, the deficit, taxes and spending, and Congress. There will be other messages out there, but individually each of these would be very potent. Running on them all in a single election is something else entirely. If the Republicans pick up lots of seats in November, some Republican campaign "guru" will come out of the woodwork to claim credit - but c'mon, the ads write themselves.
The GOP need not and will not focus primarily on the idea of "repeal," which is far too vague. That's not to say that the party shouldn't promise repeal. It's just to say that its rhetorical emphases should - and will - focus on the messages that have been proven over the years to be effective.
Follow me now on Twitter!
-Jay Cost