Have Democratic Leaders Gone Mad?
With the introduction of Harry Reid's health care bill - talk will inevitably focus on whether the public option or the Stupak amendment will undermine the legislation. Yet, if the bill dies, I do not think either of these will be the primary cause of death.
I think this will be the culprit: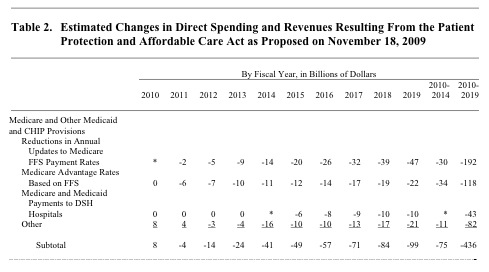 This is the CBO's analysis of how the Reid bill will cut Medicare. The total reductions come out to $491 billion over 10 years when everything is factored in.
The following has been said by other commentators, but I have to add my voice to the chorus: This is insanity, Democratic leaders. Why are you doing this?
Getting AARP's support might give you cover among the Washington crowd, but let's inject some common sense here. Lots of people are members of AARP, but that does not mean they are intensely committed to it, and will therefore follow its lead on such an important issue. AARP is not like the unions in that regard. Lots of people join to get discounts on auto insurance and movie tickets, meaning that affiliation with the organization is broader than it is deep.
Obama's current numbers among senior citizens demonstrate the validity of this point, not to mention the concern that Democrats should have heading into 2010. Gallup has him at 45% among those over 65, and at 49% among those between 50 and 64. Hint. Quinnipiac has him at 42% with those over 55. Hint hint. Rasmussen currently shows Democrats losing the generic ballot among seniors by 15 points; in 2008, Democrats split the senior vote with the GOP. Hint hint hint.
Let's review the political power that American seniors wield. In the Virginia gubernatorial election, people over 65 accounted for 18% of all voters. In New Jersey it was 19%. People over 65 accounted for 19% of all voters in the 2006 House midterm. And even in the "Yes We Can!" presidential election of 2008, when college kids supposedly overwhelmed the normal electoral process, the 65 and over crowd still accounted for 16% of the electorate (unchanged relative to 2004).
The 2006 House exit poll showed the Democrats winning the national vote by a margin of 54 to 46. If, however, we plug in Rasmussen's current generic ballot number among seniors in place of what the Democrats actually won from that cohort in 2006, their lead falls to 52-48. Note that this assumes no change among younger cohorts. That's seniors alone cutting the Democratic margin in half. This also assumes that seniors do not come out in greater numbers in 2010 to defend against perceived assaults on their Medicare benefits.
Blanche Lincoln knows what I'm talking about. When she won reelection in 2004, seniors made up 16% of the electorate and went 59-41 for her. In the 1998 midterm, seniors made up 26% of the electorate and went 60-37 for her. In both contests, they were her strongest supporters. I wonder what she thinks of Table 2 in the CBO's analysis of the Patient Protection and Affordable Care Act.
Bob Dole knows what I'm talking about, too. From January through September of 1995, Bill Clinton's job approval numbers were tepid, with a typical net approval rating of about +2.5. Things turned around for him in late 1995 when the budget battle heated up and Clinton took a stand against...GOP reductions in projected Medicare spending! I'll let Michael Barone finish the story. This is from the 1998 Almanac of American Politics:
[I]n August 1995 [Clinton] started running political ads against the Republicans' Medicare plan. All this was part of a strategy pollster Dick Morris called "triangulation," taking positions between liberal Democrats and conservative Republicans so as to elevate the president's stature above both...In November and December he negotiated on the budget with Speaker Gingrich and Senate Majority Leader Bob Dole, promising them agreement at times, but he ultimately vetoed most of their appropriations bills. That technically shut down non-emergency functions of the federal government, a step which many Republicans initially welcomed and thought would be popular. This was a stunning miscalculation, as was their lack of a strategy to deal with Clinton's vetoes...By the time Republicans backtracked and agreed to Clinton's terms, their ratings were down and they were running behind Democrats in the polls.
The President declared at the time the deal was struck that his proposal was a "sensible solution" that showed "you can balance the budget in 7 years, and protect Medicare and Medicaid, education and the environment and provide tax relief to working families." He cruised to reelection.
Not coincidentally, Dick Morris was the first to suggest that mucking around with Medicare would mean trouble for the Democrats. He knows what he's talking about, and in September he wrote:
The Democratic Party, led by Obama, is systematically converting the elderly vote into a Republican bastion. The work of FDR in passing Social Security in 1937 and of LBJ in enacting Medicare in 1965 is being undone by the president's healthcare program. The elderly see [Obama's] proposals for what they are: a massive redistribution of healthcare away from the elderly and toward a population that is younger, healthier and richer but happens, at the moment, to lack insurance. (Remember that the uninsured are, by definition, not elderly, not young and not in poverty - and if they are, they are currently eligible for Medicare, Medicaid or SCHIP and do not need the Obama program.) The elderly see the $500 billion projected cut in Medicare through the same lens as they viewed Gingrich's efforts to slice the growth in the program in the mid-1990s. [Emphasis Mine]
Why are Obama, Pelosi, and Reid doing this? How could they be so foolish as to repeat the most egregious mistake of the Republicans of the 104th Congress? Why are they forcing their vulnerable members to vote on a bill that would cut Medicare in this fashion? Do they dislike their moderate colleagues? Do they find the chore of being the majority party too burdensome? Have they simply gone mad?
Follow me now on Twitter!
-Jay Cost