Obama and the Celebrity Culture
A few people around the blogosphere have noted this, but I thought I would toss in my two cents. This is from People magazine's online site, dated Sunday:
Imitation may be the highest form of flattery, but Michelle Obama is none too happy about a toy-maker ripping off the likenesses of her young daughters for profit.

Ty Inc., the company that makes Beanie Babies, has released a pair of new dolls named Sweet Sasha and Marvelous Malia, both with brown skin and brown eyes, according to the New York Times.

But what seems like a sound business decision - the president's daughters, Malia, 10, and Sasha, 7, nearly stole the show at the Inaugural celebrations - has clearly miffed the Mom-in-Chief.

"We feel it is inappropriate to use young, private citizens for marketing purposes," Mrs. Obama's press secretary, Katie McCormick Lelyveld, said in a statement.

The Obama girls are in good company: dolls in the TyGirlz Collection include Jammin' Jenna, Happy Hillary, Precious Paris and Bubbly Britney, according to the Times.
Here's a picture of the toys.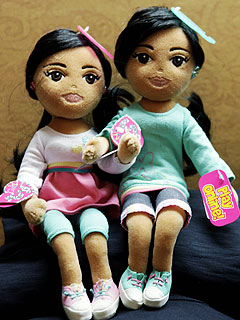 I could see why Mrs. Obama would be miffed, although I am not terribly surprised by these toys. Obama enjoys a celebrity status that no president in my lifetime - not even BIll Clinton - has ever enjoyed. The Obamas are in those celebrity mags - like People and InTouch - all the time, with glossy photos and happy headlines like, "He's a normal dad!" or "His new house is soooo different!"
I think his campaign has cultivated this celebrity image as part of a broader political strategy. A smart one. Afterall, Obama first had to go up against Hillary Clinton, who is a larger-than-life celebrity figure. Obama needed some sparkle to match hers. But as so many other celebrities have found, it is often taken too far - this time by a private firm cashing in on the insatiable market for all things Obama.
This points to the unique transition President Obama is making. He is going from the celebrity candidate to the President. The two are not compatible. Every President has to leave his old life behind, but no previous President has had a pre-presidential life that InTouch weekly was keeping close track of. It's good that the White House spoke out against these toys, and it would be good politics, I think, if the President ditched his celebrity image altogether. The people should see him as the person in whom the power of state resides - not as a celebrity to be oogled like Brad Pitt. The celebrity image served his campaign's purpose, but it's time to set it aside. I suspect he'll do exactly that.
-Jay Cost