Murtha in a Tight Race
After making some unfortunate comments to the editorial board of the Pittsburgh Post-Gazette, calling voters in his region "racist" then "redneck," Western Pennsylvania congressman John Murtha finds himself in a tight race. The NRCC and the DCCC have both entered the fray, blanketing the Pittsburgh area with advertising, and Murtha is calling upon Bill and Hillary Clinton to help him carry his district tomorrow.
Murtha's district is Pennsylvania 12th. It covers a vast expanse of Western Pennsylvania, stretching 130 miles from Johnstown in the east to Waynesburg in the southwest corner of the state. His district is the one shaded blue in this picture, courtesy of Sean Oxendine.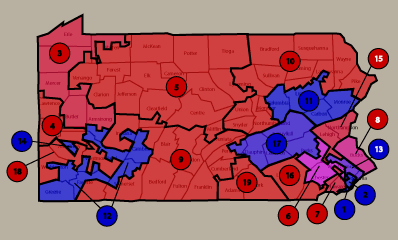 As this Post-Gazette article notes, Murtha's district did not always look like this. When he was first elected in 1974, his district, then Pennsylvania's 22nd, looked like this (again courtesy of Sean Oxendine):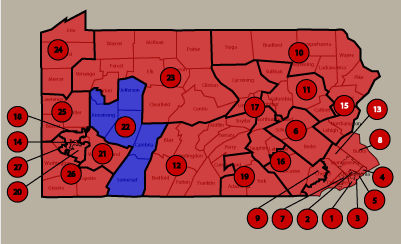 Centered in Johnstown, it stretched north instead of west. The shape of the district has changed because Pennsylvania has lost congressional districts over the years - from 27 in the 1970s to 19 in the 2000's.
According to the Post-Gazette, this has contributed to Murtha's problem. Around Johnstown, voters know him well. However, he is not known nearly as well to the voters in the west.
The farther west you go, the deeper the puzzlement at the congressman who called Western Pennsylvania "racist" in an interview with the Post-Gazette editorial board and then apologized by substituting "redneck" in a television interview.

Mr Murtha already had irked veterans and social conservatives in the area by calling for a U.S pullout from Iraq and accusing eight Marines of atrocities in the town of Haditha.

Back home, the "racist" remark is viewed as Mr. Murtha -- who is as famous for his plain speech as for his capacity for handing out federal moolah -- speaking more bluntly than clearly. Yet, in much of the new district, well to the west of Johnstown, there is puzzlement verging on anger.
Murtha's problem is similar to the kind of trouble that many long-serving members of Congress face. When they are first elected to Congress, and for the first few terms, they develop what political scientist Richard Fenno calls a "homestyle." This is a way of interacting with and understanding voters in the district - cultivating good relationships with important constituent groups, appearing at the right events, knowing when to vote with the district and when you can get away with voting against it, and so on.
However, members can face trouble as the district changes. In some instances, the change is induced by new types of voters moving in. In other instances, such as Murtha's, redistricting means new lines and new voters. These new voters do not have the same relationship with the member, which means he must cultivate a bond with them. If he fails to do that, those new voters might ultimately turn against him.
This Post-Gazette article indicates that Murtha has had trouble adapting to his changing district. Voters in Johnstown are more forgiving of Murtha's comments, but to the west his voters are less so because they don't know him as well. This makes intuitive sense. If you've known John Murtha as a man who has brought jobs and federal dollars to the district for 34 years, you have a context for those comments. But if he's new to you, and these comments are some of the first things you've heard from him, they could be very important in shaping your opinion.
So, Murtha's problem this cycle is an extreme example of a common kind of trouble. Congressional districts are not static. They change because of population movements, shifts in the economy, redistricting, and other factors. Members, even long-serving ones, need to adapt to these changes. If they don't, they can face the kind of trouble that Murtha has today.
Will this be enough to end Murtha's career? I don't know. Fortunately for him, he made his bone-headed remark in a year that favors the Democratic Party. That's a lucky break for him - and luck can sometimes count as much as anything in House races.
-Jay Cost