McCain-Palin Focus on Ohio and Pennsylvania
As the campaign enters its final days, we can develop a good sense of where the campaigns think they stand. That's because campaigns have two scarce resources. The first is money. We can't track money directly, but we can track what it is buying - namely, television advertisements. Thanks to Nielson, we know that McCain-Palin has recently focused its ad buys on Florida, Ohio, Pennsylvania, and Virginia. Meanwhile, its ad buys are being scaled back in Colorado.
The second scarce resource is time. If we follow where the candidates are traveling, we can know where they think their campaign events - and all the local media they generate - can make the best difference. So, let's examine where the McCain-Palin campaign has been travelling in the last few days. I built the following picture via Google Maps. It shows where John McCain has been from October 25th through today.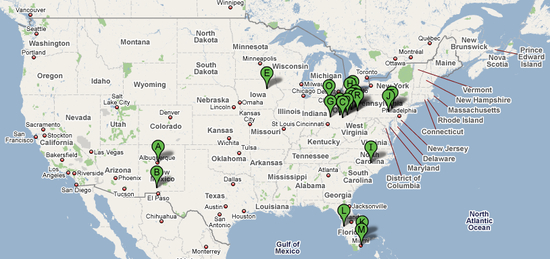 First off, we notice very few appearances out west. None in Nevada, none in Colorado, just two in New Mexico that occurred last Friday. Interestingly, there has been one trip to Iowa, which is curious, given the public polling. We also find three trips to Florida and one to North Carolina, which are consistent with his advertising in those states.
McCain's emphasis has been on Ohio. He's basically planted himself in the Buckeye State, holding eleven events in the last week.
Now, let's examine Sarah Palin's travels in the last week.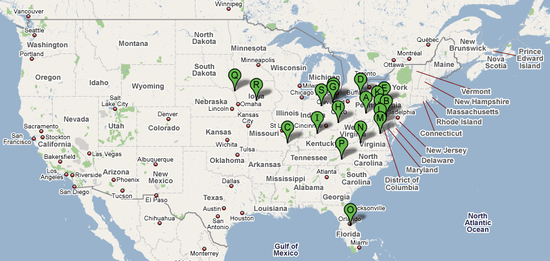 Palin has actually made no appearances in the west, another indication of the campaign's attitude about Colorado, Nevada, and New Mexico. Meanwhile, she has made two appearances in Iowa. Given that Obama is in the Hawkeye State today, we can infer that the race might be tightening there.
Palin, like McCain, has checked in with North Carolina and Florida. She's also been in Virginia and Indiana this week. However, Palin's emphasis has been on Pennsylvania.
So, the ticket has been focused on Ohio and Pennsylvania in the last week. Let's take a closer look at their travels in those two states. The following picture, again courtesy of Google Maps, does that. McCain visits are shaded blue. Palin's are green. Joint appearances are in purple.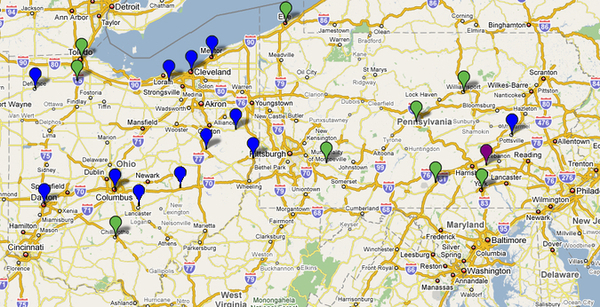 Let's begin with a close look at Ohio.
What is interesting is that some of McCain-Palin's time has been spent in Democratic strongholds. For sure, McCain has made appearances in Defiance, a GOP stronghold in the northwest, and Lancaster, a GOP bastion in metro Columbus. However, there have been visits to blue-collar Democratic areas like Toledo, Elyria, and Steubenville. These are the kinds of places John Kerry was visiting at this point in the cycle in 2004. McCain-Palin has also hit several swing areas - Mentor (in metro Cleveland), Dayton, and Hanoverton (just south of Canton on I-77).
Overall, this has been a fairly balanced schedule, with both McCain and Palin toggling between Democratic strongholds, Republican strongholds, and swing areas. The only peculiarity I'd note is the relative inattention paid to the southern third of the state. Palin made a few stops in metro Cincinnati the week before, but McCain has not been there in quite a while. That is a bit surprising. I'm also surprised that there has been just one visit to Ohio's sixth congressional district (Steubenville). The sixth was a swing district in 2004 that heavily favored Clinton over Obama in the primaries. I would expect that, given fourteen total visits to the state, more than one would be dedicated to the sixth district.
What about the Keystone State?
There were fewer visits in Pennsylvania this week, and Palin hosted most of them. She held a rally in York, an exurban GOP stronghold that will need to come in big for McCain-Palin. She also has spent a good bit of time in the "Middle T" of the state, with visits to College Park (Correction: University Park), Williamsport, and Shippensburg. These are "rallying the base" visits with small town voters who have been loyal to the GOP for more than a hundred years (though Penn State helps Democrats in College Park). Note the visit to Erie, PA - a Democratic town that went for Kerry in 2004. Palin also made a stop in Latrobe, on the outskirts of metro Pittsburgh in Westmoreland County. She was in Beaver County the week before - a working class county also in metro Pittsburgh that has been trending toward the GOP in recent cycles. McCain, for his part, made a trip to Pottsville, PA - which sits about halfway between Harrisburg and Wilkes-Barre along I-81. They held a joint appearance in Hershey, PA - just outside Harrisburg.
Interestingly, what we have not seen from McCain-Palin in the last week are any trips to metro Philadelphia. The last time McCain was in metro Philly was October 21st for a rally in Bensalem. Palin was last there with a visit to Blue Bell on October 14th. This is an indication that the GOP ticket is focusing on the central and western parts of the state rather than the southeast. I discussed the logic of this earlier in the week.
So, what's the bottom line? Again, time and money are scarce resources. Candidates allocate them according to what they believe is the best strategy to win 270 Electors. That McCain-Palin has essentially planted itself in Ohio and Pennsylvania is an indication that it thinks its time is of good use here. Combine that with its enhanced advertising buys in these two states, and we can conclude that Ohio and Pennsylvania are crucial components of its electoral strategy.
-Jay Cost