Swing State Review: Pennsylvania
Today we continue our Swing State Review, examining Pennsylvania. It is a common conception that the Keystone State has been "trending blue" in recent years. Commentators often note that Pennsylvania voted for Ronald Reagan twice and for George Bush in 1988, but has since voted Democratic.
While this is significant, it is not by itself a signal that Pennsylvania has been "trending blue." It is more appropriate to call Pennsylvania consistently and marginally blue. In the last fourteen presidential elections, Pennsylvania has voted more Democratic than the rest of the nation all fourteen times. On average, its Democratic tilt has been about 4 points. For instance, in 1952, Dwight Eisenhower beat Adlai Stevenson by 10.5 points. He won Pennsylvania by 5.8 points, for a Democratic tilt of 4.7 points. In 2004, George Bush beat John Kerry nationwide by 2.4 points. He lost Pennsylvania by 2.5 points, for a Democratic tilt of 4.9 points.
Interestingly, this statewide consistency masks significant intrastate change. It is frequently noted that metro Philadelphia has moved to the Democrats. This is quite true. However, this has been countered by movement to the GOP in central and western Pennsylvania. Taken together, these various shifts have altered the political contours of the state while keeping the aggregate vote results roughly consistent.
The following picture indicates this point. It illustrates the shift in the presidential vote from the 1968 presidential election to the 2004 election. These are two elections where the Democrats won modest victories: 3.6% in 1968 and 2.5% in 2004. Thus, they offer a good "apples to apples" comparison of how the state has shifted over time.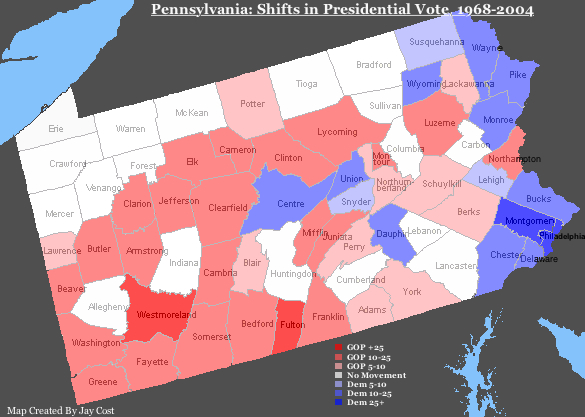 Clearly, the east has moved to the Democrats. All of the counties of metro Philadelphia have generally trended blue (Berks County being the sole exception). This is especially important as the surburban counties have grown in population. We also see some movement to the Democrats in the far northeastern counties, which have increasingly become part of greater New York.
Meanwhile, the central and western parts of the state have clearly been moving in the Republican Party's direction. All of the exterior counties of metropolitan Pittsburgh - Armstrong, Butler, Fayette, Washington, and Westmoreland - have shifted noticeably toward the GOP. The Republicans have also made gains in fast-growing York County. Lancaster County has not shifted, but it was very Republican to begin with. So, its growth has given the GOP more votes.
We can see the same patterns from two different angles. First, the 1976 election produced statewide results similar to the 2004 election. Jimmy Carter won a slight, 2.7-point victory. So, we can generate another "apples to apples" map comparing '76 to '04. By and large, we once again find the same pattern: movement to the Democrats in the east and to the Republicans in the center and west.
Second, the following picture examines the average partisan "swing" of each county for three groups of presidential elections: 1968-1980, 1984-1996, and 2000-2004.* This gives us a sense of each county's voting pattern relative to the state as a whole.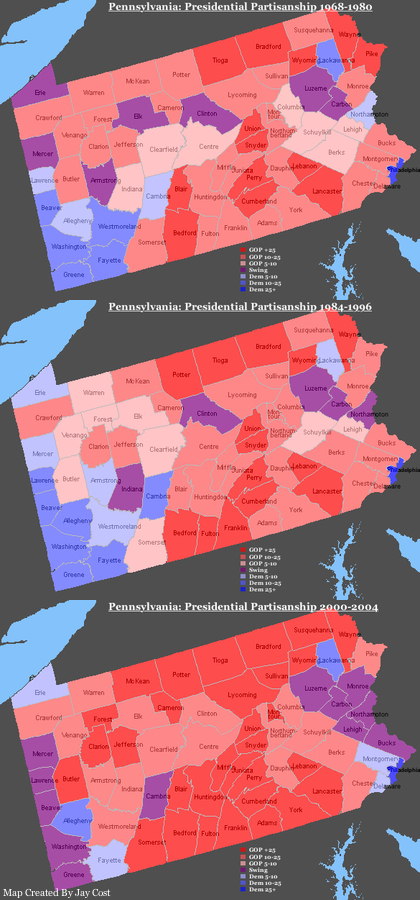 We are interested in how counties change color over time. In the east, red counties have turned purple or blue. This trend is countered in the west, where solid blue counties have turned purple or, in a few instances, red. The sparsely-populated central third of the state was Republican to begin with, and it has generally become more so.
Taken together, these pictures illustrate that while Philadelphia and much of the east have been moving toward the Democrats, the south and west have been moving to the Republicans.
As indicated above, the net effect of these shifts has so far been roughly zero. Pennsylvania still generally tilts Democrat by 4 or so points. Whether this pattern persists in the future depends on a number of factors outside our immediate concern. The important point for us now is that the Democrats still possess this advantage. So, Obama is favored because he is the Democrat in what many expect to be a close election.
Whereas in Ohio, Obama was on "offense" and McCain on "defense," matters are reversed in Pennsylvania. Accordingly, let us examine what McCain must do to flip Pennsylvania from blue to red. There are four areas he should focus on:
(1) Metropolitan Philadelphia. George W. Bush's numbers in metro Philly were not great in 2004. Statewide, Bush's vote share ticked up 2 points between 2000 and 2004, from 46.4 to 48.4. In the suburban counties surrounding Philadelphia, it barely inched up, from 46.7% to 47.0%. If McCain can improve on Bush's 2004 share in the suburban counties, he will be better positioned to win the state. He would not have to do much better - a shift of just 2 points in the suburban counties would close more than a third of Bush's statewide deficit.

(2) The Lehigh Valley. This is in Lehigh, Northampton, and Carbon counties. Formerly a center of American manufacturing, the economy has recently been invigorated by the tech and service industries. With this revitalization has come an increase in population. Bush was basically stagnant in this region between 2000 and 2004. He lost all three counties by slim margins in 2000. In 2004, he won Carbon County barely, and ticked up a bit in the more populous Lehigh and Northampton Counties, still losing both. This is an area McCain cannot afford to ignore: Republicans who have won close statewide races in recent years tend to win the Lehigh Valley.

(3) York and Lancaster Counties. York and Lancaster are in the southeast - in Pennsylvania Dutch Country. Situated just east of the Appalachian Mountains, these counties have some of the most productive farmland in the state, though this does not account for their political importance. They sit between Baltimore, Harrisburg, Philadelphia, and Washington - and their populations have been growing as people willing to commute look for new places to settle. Like most "exurbs" nationwide, Bush did exceedingly well here, winning more than 3 out of 5 voters in both counties in 2004. McCain will have to match that. A strong performance here is already built into a Republican loss. So, he cannot afford to underperform here.

(4) The West. Culturally conservative western Pennsylvania has been trending Republican in recent years. For a long while, their ties to American industry induced them to vote Democratic, even as the Party of Jackson moved to the left on cultural issues. With the decline of industry, the area's allegiance to the Democratic Party has weakened. Meanwhile, the region is still largely pro-life and pro-gun, which has given the GOP an opening. In fact, George W. Bush did better in the five outer counties of metropolitan Pittsburgh than any Republican since 1972.
To win Pennsylvania, McCain will have to find a way to account for Bush's weaknesses while mimicking his strengths. While it remains to be seen whether he can do this, we might get a sense of what to expect by examining the Democratic primary results. This could give us an idea of Obama's position in the state, and therefore what McCain needs to watch for.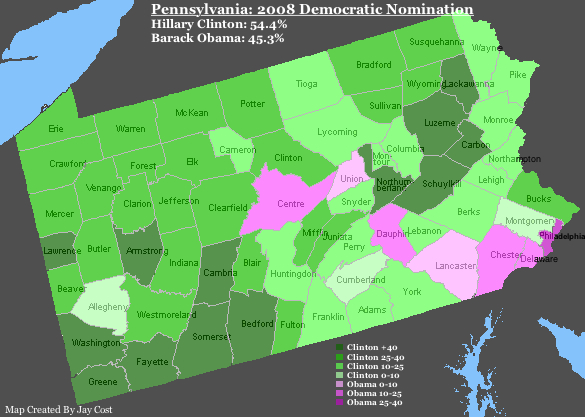 This picture presents a mixed bag for the McCain campaign. First, it indicates that McCain can be reasonably optimistic about the western part of the state. Obama did poorly here, especially in the southwest. Given that these are areas where the political dynamic has increasingly favored the Republicans, anyway - Obama could have some rough sledding here.
Obama ran better in the Lehigh Valley than he did in the west, but that is not saying much. Indeed, he failed to break 40% in any of the counties in the Lehigh Valley. Plus, in lightly populated Carbon County, he barely won one out of five voters. There might be an opportunity for McCain here.
On the other hand, Obama ran very well in the Philadelphia suburbs. He carried Chester and Delaware counties, and kept it close in Montgomery. So, he might be well-positioned to prevent McCain from improving on Bush here.
Furthermore, Obama won Lancaster County. This is similar to his win in Delaware County, Ohio. Both Lancaster and Delaware are fast-growing exurban counties. Is it possible that Obama might be able to blunt the GOP's nationwide advantage in the exurbs? Maybe, though I'd note that Obama was roundly defeated in the exurban counties of Pittsburgh - Butler and Westmoreland.
The primary map points to another area we should watch as the election returns come in - the old coal country of Scranton and Wilkes-Barre. Lackawanna County, home of Scranton, is typically a safe Democratic county in presidential elections. However, it is not a lock. Michael Dukakis eked out at 3-point victory in the county in 1988. Luzerne County, home of Wilkes-Barre, is more in the middle, though it slightly favors Democrats. Obama did quite poorly here, winning only about 25% of the vote in either county. Let's add this part of the state as a fifth place for McCain to focus on. If voters in these areas are disinclined to Obama, McCain might pick up some support here that a "generic Republican" would not.
Overall, it is far too early to make any predictions about Pennsylvania. Nevertheless, given the last half-century of elections, it is not unreasonable to expect the state to vote more Democratic than the country at large. If this holds true this cycle, Obama should have the advantage in the Keystone State. That being said, McCain certainly has a shot here, and if this turns out to be an election where the old rules of electoral politics are suspended, we might see a surprise on Election Day.
***
Endnotes
[*] "Swing" is defined here as it was in our review of Ohio. It measures a county's partisan behavior relative to the state. If, for instance, the state voted +2 Republican, and Philadelphia County voted +20 Democrat, we would say that Philadelphia County had a Democratic swing of 22 points. Each county gets a score like this for every presidential election, and those scores are averaged to produce the picture above.
-Jay Cost