Virginia - 2
(October 26) We had thought Thelma Drake had given herself a little cushion against her Democratic challenger Phil Kellam in Virginia's 2nd district, but a new Mason-Dixon poll out today gives her a meager 2 point, lead 46% – 44%. Not great news for an incumbent who should be in the process of salting away this race if she is going to go on and win, which right now we still think she will.
Of concern for Republicans is the 2005 Virginia Governor's race where the Democrat Tim Kaine carried the state by almost 6 points, 3 points higher than the final RCP Average in that race. Kaine was able to win the 2nd district by just over 3%, running about two points off his state wide pace.
That has to give the Drake campaign some concern. But the good news for Drake is she is polling one point better than George Allen in the district and at the end of the day Allen's race with Webb is almost guaranteed to be closer than the Kaine race at least from the Republican perspective. Allen should be able to carry this district, so if Drake continues to stay ahead of Allen, she should be OK.
---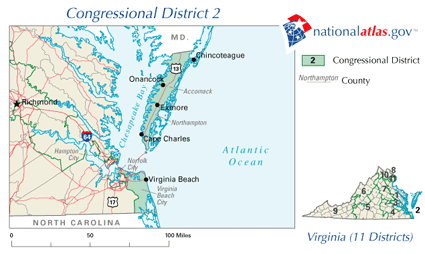 Candidates
Thelma Drake (R)
Phil Kellam (D)
2004 Results
Congress
Drake (R) 55
Ashe (D) 45
President
Bush (R) 58
Kerry (D) 42