Texas - 22
Polling Data
| Poll | Date | Sample | Sekula-Gibbs (R) | Lampson (D) | Und. | Spread |
| --- | --- | --- | --- | --- | --- | --- |
| Zogby | 10/23 - 10/25 | 504 LV | 28 | 36 | 25 | Lampson +8 |
(October 30) A lot of buzz today on the back of a Zogby poll showing 36% support for a write-in candidate to only 35% for the Democrat Lampson. However, only 79% of those saying they were going to vote for the write-in candidate said they would for Sekula-Gibbs. We have downgrade this race to the third most likely to flip seats on the back of the President's visit and the money Republicans are throwing in the race. However, the write-in issue is a massive handicap, hard not to see how Lampson wins.
(October 28) The President will be in Sugar Land on Monday for a get-out-the-vote rally.

(October 26) We may have been a little flip with our October 20th analysis, but we do think the lack of any released polling is a sign that this race is almost definitely a Democratic pickup. Every other race in RCP's top 20 has polling, including FL-16, which is an open seat with a weird ballot name issue similar to what is going on here in TX-22. We do hear rumblings that the GOP isn't giving up here and news that President Bush will make a campaign stop here next week may give this overwhelmingly GOP district some momentum for Sekula-Gibbs. But the write-in component is just such a high hurdle, it is hard to imagine, in a year, where it is universally agreed that Republicans are going to lose seats that this isn't number one, two or three on the most likely to fall.
---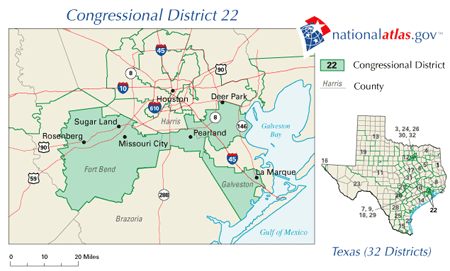 Candidates
Shelley Sekula-Gibbs (R)
Nick Lampson (D)
Bob Smither (L)

2004 Results
Congress
DeLay (R) 55
Morrison (D) 41
President
Bush (R) 64
Kerry (D) 36
(October 20) The absence of public polling in this race is proof that it is over. This is Dem pick up #1.
(August 31) Texas's 22nd District stretches across the southern suburbs of Houston – from Sugar Land in the West to Pasadena in the East. It has been the locus of rapid development in the last few decades, and it is quite conservative. Bush enjoyed 67% of the vote in this district in 2000, and 64% in 2004.
We all know why it is as vulnerable as it is this year – Tom DeLay. After initially being indicted by Austin D.A. Ronnie Earle, DeLay ostensibly perceived he could win reelection. His tepid performance in the spring primary, and – in all likelihood – soft internal poll numbers, convinced him otherwise. He resigned from Congress and withdrew from the ballot. Texas Democrats sued Texas Republicans to keep the latter from putting a new name on the ballot. The Courts sided with the Democrats.
This is the sort of condition we need to have to see a district as conservative as TX 22 go to the Democrats: either the Republican has to be under indictment or there has to be no Republican on the ballot. And so there is none. Former representative Nick Lampson – who represented Texas's 9th District (prior to the 2003 redistricting) – is poised to win. This despite the fact that his political roots are in Beaumont, TX in Jefferson County, which is over 100 miles from Sugar Land and that, in the 108th Congress, he racked up only a score of 23% from the American Conservative Union.
This will be a win by default.
As the saying goes – you can't beat somebody with nobody.
Technically, the Republicans have nobody. But the local GOP has managed to coalesce around their "nominee" – Houston City Councilwoman Shelly Sekula-Gibbs. She is their write-in choice for the seat. The obvious question: how will enough voters manage to write-in a candidate whose name has six syllables and a hyphen? They will get some help from Texas Governor Rick Perry, who recently mandated that, on the general election ballot, there would also be a special election ballot to fill the remainder of DeLay's term in the 109th Congress.
Will this be enough? The smirk, or grimace, on your face is your answer.