Pennsylvania - 10
Key
State
Races: Senate | Governor | PA-4 | PA-6 | PA-7
| PA-8
| PA-10
(October 21) President Bush was here on Thursday trying to give Sherwood a boost in the home stretch. Sherwood has big, big troubles but this is a Republican district that gave Bush 60% just two years ago. Santorum's people will be in here hard which may spill over and help Sherwood on the margins, but were skeptical that he can pull this race out.
(October 6) Pennsylvania's 10th Congressional District is one of the most conservative in the entire Commonwealth. It occupies the Northeast corner of the state – excluding Scranton and Wilkes-Barre – as well as a sliver of central Pennsylvania. The result is a district that is overwhelmingly rural and Republican.
So – why is it up for grabs this year? The answer is its current representative – Don Sherwood. In 2004, Sherwood did not even have major party opposition. He took 93% of the vote against a Constitution Party candidate. He is in such a fight now because of his personal life. In 2004, a woman with whom Sherwood had been having a 5 year affair filed an assault charge against him. She also filed a $5.5 million lawsuit against him, which was eventually settled out of court. Sherwood admitted to the affair, but denied having assaulted her.
This kind of activity tends to be big time trouble in conservative districts like PA 10 – and Sherwood is neck-deep in it. (Click here for more....)

---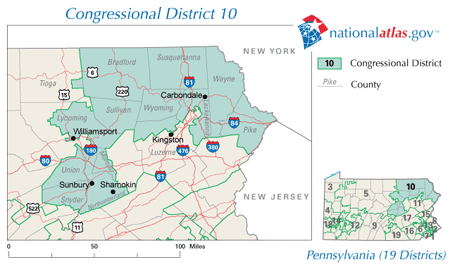 Candidates
Don Sherwood (R)
Chris Carney (D)
2004 Results
Congress
Sherwood (R) 93
Unopposed
President
Bush (R) 60
Kerry (D) 40