North Carolina - 11
(October 22) This is another one of those 50/50 seats which will decide who wins the House (like CT-4 and IN-9) currently ranked #16 on RCP's list and sandwiched between Sodrel in Indiana 9 (#15) and Shays in Connecticut 4 (#17). In a more typical year Taylor would be targeted by the DCCC and would probably win with around 55% of the vote like he has for the past three elections. But with the national generic congressional ballot giving the Dems a solid double-digit lead this late into the election Taylor is in a serious fight. The Democrats have nominated an attractive candidate in former Tennessee quarterback Heath Shuler and there is no question this is a very real pick up possibility for Democrats even though it is a rather Republican district having voted for Bush by 57% in 2004 and 58% in 2000.
In October 2004 both public and Democratic polling showed Taylor's Democratic opponent within 2 points, Taylor however went on to win by 10 points, 55% - 45%. Shuler should not feel like he is going to coast on to victory on the back of the RT/Strategies and Reuters/Zogby polling giving him an 8-11 point lead. House polling has been notoriously all over the place in many of these contested districts, for example in New York 20 an RT/Strategies poll released last Wednesday had the Democratic challenger up 13 points the exact same Siena College released a survey showing the Republican incumbent up 14 points. In Iowa 1 a recent Reuters/Zogby survey gives the Republican a 13-point edge at the same time many view the race to replace Jim Nussle in IA-1 as a very strong Democratic pick up possibility.
This North Carolina race is a true toss up and it may come down to how much money Taylor, who is worth over $50 million, is willing to spend in the closing weeks. If he spends the cash, he probably buys the small edge coming down the home stretch.
(October 6) North Carolina's 11th district covers the western part of the state, including Asheville, Hendersonville and Murphy. It is very mountainous, characterized by small towns, and does not fit into stereotypical notions of the South. Nevertheless, the district is very conservative – giving George W. Bush 57% of the vote in 2004 – still elects lots of Democrats to state and local offices.
The representative from the 11th's district is Charles Taylor, who has served here since 1990. Taylor is one of the wealthiest members of the House, and he self-funds his campaigns. His business success has been the source of repeated ethical questions raised about his finances, and these have served to get him in trouble in past elections. In 2004 and 2002, he won only 55% of the vote, well below what a long-serving member should be winning. (Click here for more...)
---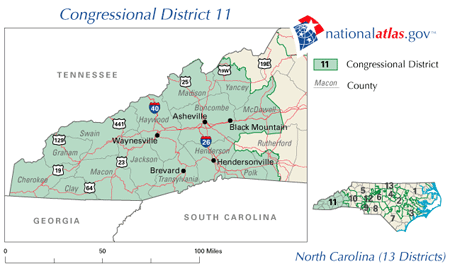 Candidates
Charles Taylor (R)
Heath Shuler (D)
2004 Results
Congress
Taylor (R) 55
Keever (D) 45
President
Bush (R) 57
Kerry (D) 43
Taylor
's has drawn an attractive opponent this time around in Heath Shuler – former Tennessee Volunteers quarterback sensation (and Washington Redskins quarterback disappointment). Shuler has been tenaciously tracking a conservative-to-moderate course on the issues, which has made him difficult for Taylor to attack. Shuler, interestingly enough, has not really focused on the ethical questions that have surrounded Taylor in the past. Rather, he is focusing on trade and economic concerns while trying to neutralize an attack on social issues (Taylor failed to register a vote on CAFTA, an issue of major salience for NC 11, and he claimed that it was a technical error that induced this). Taylor, meanwhile, is emphasizing the amount of pork he brings home to the district – he has also worked hard to tie Shuler to "San Francisco's Nancy Pelosi"
The big question (football metaphor alert): will Shuler perform as a Volunteer or as a Redskin? Zogby had Taylor down by 11%, though he also had the GOP in the lead in IA 01 – so who knows what is really going on in NC 11. This race is a toss-up in the true sense of the word: it is impossible to really identify who has the edge here. That means one thing: get out the vote efforts will be critical.