New York - 24
(October 28) Upstate New York is developing into a big problem for the GOP. With Tom Reynolds looking to have stabilized his race in NY-24 some what, Sherwood Boehlert's open seat looks to be the most vulnerable of the handful of GOP seats in play in New York state. The district is only marginally Republican with Kerry and Gore both winning 47% in their presidential runs. The Spitzer/Clinton juggernaut at the top of the ticket may have a marginal impact on turnout and could make the difference for Democrats. Numerically Democrats don't have to pick up any seats in New York to take the House, realistically two seats is probably the number they will need. This looks like one.
(September 14) New York's 24th Congressional District covers an 11-county expanse in central New York, between Binghamton and Syracuse. In the East, it stretches north to include Utica and the Finger Lakes region. The district is Republican, but Democrats made gains in this region in the 1990s.
Republican Sherwood Boehlert has represented this district since 1982. He is stepping down this year as his chairmanship of the influential Science Committee is coming to an end. The GOP has rallied behind State Senator Ray Meier, who recently picked up his party's nomination. Ditto for the Democrats and Oneida County DA Mike Arcuri. These are two top-tier candidates, and the resulting campaign should be a good one.
The GOP is probably in a better position in this district than they are in TX 22, IA 01, CO 07 or AZ 08 – thanks to district partisanship (Bush actually improved his vote totals here in 2004) as well as the quality replacement the GOP has selected. (More below....)
---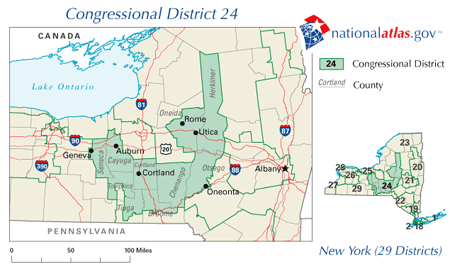 Candidates
Ray Meier (R)
Mike Arcuri (D)
2004 Results
Congress
Boehlert (R) 57
Miller (D) 34
President
Bush (R) 53
Kerry (D) 47
Most pundits see this race as still leaning toward the GOP. A recent New York Times article indicated that the Democrats are getting a little bearish about their chances for House pickups in New York, and did not go out of its way to talk up a capture here in the 24th. However, district partisanship offers the Republicans only a slight advantage. A strong campaign from Arcuri can result in a Democratic pickup. If this race favors one side, it is only by a little.
For what it is worth: an end-of-August poll sponsored by Meier had him up 10% over Arcuri, but still well below 50%.