New York-20
(November 3) If you are an incumbent Republican congressman, in a tough year and in a tough region of the country, this is not the news you want to see a week before the election:
Congressman John Sweeney said, "The report is false. I have trust in the integrity in the State Police. There was no domestic violence."Congressman John Sweeney and his wife, standing side by side, emphatically denied reports of abuse. Sweeney spoke on camera at a friend's home, while Gayle Sweeney chose to speak earlier by teleconference
Mrs. Sweeney said, "At no time has John hurt me or done anything other than try and protect me. There were never any injuries to me. Neither John nor I are perfect. We love each other deeply. The incident report that has been given to the press is untrue." The incident reports were obtained by two newspapers and printed in the morning editions…..After Sweeney's response, Democrat Kirsten Gillibrand released this strong worded statement that said, "It is Mr. Sweeney's word versus that of numerous police sources and trusted local news organizations across our region. This is about John Sweeney's behavior, his history of lies, his arrogance, and bullying."
Until this news cycle it had looked like Sweeney was weathering the storm. This race has moved up on RCP's Top 50 list of most vulnerable incumbents.

(October 19) We have considerable more confidence in the Siena College survey that indicates Rep. Sweeney up 14 points than the RT Strategies/CD poll that shows Sweeney trailing by 13 points. This seat is currently ranked 37th on RCP's House list and right now is solidly in "Leans Republican" territory. Clearly one of these polling firms has this race very, very wrong. We will find out on Election Day which one it is.
(September 2) This Hudson River district has been represented by Republican John Sweeney since 1998. He won handily in 2004, 2002 and 2000. This time around, he is facing a well-financed, albeit inexperienced, challenger in Kirsten Gillibrand – who is receiving tactical advice from the Clinton operation. The district went for Bush in both 2000 and 2004. Its place on our list is largely due to the financial prowess of Gillibrand, which in turn has to do with the weaknesses of the Sweeney campaign. He has been in ill-health, and as late as May it was still a question as to whether he would even run for reelection.
Apparently his illness did not prevent him from attending a frat party at Union College on April, 21 – at which he was reportedly intoxicated. It is one thing for a 23-year old Super Bowl star to "drink like a champion," but when an ill-of-health member of the House Appropriations Committee allegedly does so (and, minimally, puts himself in a position where people can make such an allegation) – that is political trouble. If Sweeney goes from winning by 32% in 2004 to losing in 2006, his evening at the Alpha Delta Phi House will probably be a key reason.

Good news for Sweeney came just prior to Labor Day – as a Siena Research poll found him up by 19%. This despite his bad press and the activity of the Gillibrand campaign.
---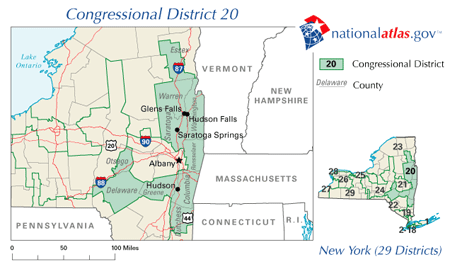 Candidates
John Sweeney (R)
Kirsten Gillibrand (D)
2004 Results
Congress
Sweeney (R) 66
Kelly (D) 34

President
Bush (R) 54
Kerry (D) 46