New Hampshire - 2
(November 2) The UNH poll is out and is bad news for the Republican incumbent Charlie Bass as he now trails Paul Hodes 45% - 37%.

(October 26) Last night was the one and only televised debate in New Hampshire's 2nd district. Bass who beat his opponent by 20 points last time around in 2004 looks to have been taking it easy recently thinking he was going to coast in with an easy win. Robert Novak in the latest House update from the Evans-Novak Political Report writes:
Here's a surprise. No one expected Rep. Charlie Bass (R) to fall behind late in the game, but that's where he is. Bass appears to have been caught off his guard. He has been outraised by his repeat opponent, Paul Hodes, whom he defeated by 20 points in 2004. Republicans complain about Bass's lacksidaisical staffers and discuss the possible loss of his Northern New Hampshire seat. Bass's get-out-the-vote effort is extremely disorganized…… It is unclear whether Bass can be saved in time. He just started a huge phone drive Tuesday to save his seat, and some Republicans remain hopeful that he can bounce back by November 7.
The University of New Hampshire is in the field right now for WMUR New Hampshire TV and we will be watching where they peg this race very closely.
---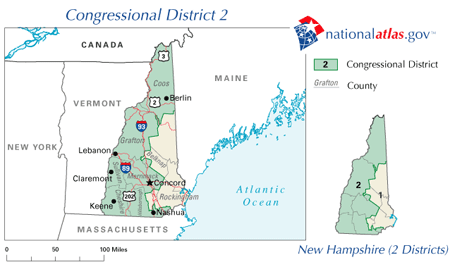 Candidates
Charlie Bass (R)
Paul Hodes (D)
2004 Results
Congress
Bass (R) 58
Hodes (D) 38
President
Kerry (D) 52
Bush (R) 47
(October 10) Even though John Kerry won this district with 52% in 2004 Charlie Bass defeated the same challenger he is facing this year, Concord attorney Paul Hodes, with 58% of the vote. We'll see where the next batch of post-Foley polls pegs this race, but it would probably take a '94 type of wave where Republicans lost 30-40 seats overall for Bass to be one of those to go down. Right now he looks OK.