Kentucky - 3
(November 2) Polling is all over the place in this race. The Louisville Courier-Journal (which does traditional telephone polling) shows the Republican Northup up 6 points; SurveyUSA and RT/Strategies/CD which use IVR or computer telephone polls have the Democrat Yarmouth up 6 points.
This is the type of seat Democrats would expect to pick up win in a wave election. Northup has been targeted every year since she won this seat in 1996 and before last year's election, which she won with 60%; she had never done better than 53%. The Louisville Courier Journal poll had her winning by 24 points in 2004 and was pretty darn accurate as she went on to win by ultimately 22. So we take the 6 point lead in the Courier-Journal poll, taken just last week, as significant. But the polls showing Yarmuth ahead can't be simply dismissed as this is a Democratic leaning district that voted for Gore and Kerry. This is one of the first districts that will close on election night and will be a very good barometer of what the rest of the night might look like.
---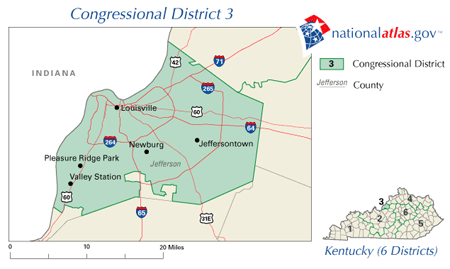 Candidates
Anne Northup (R)
John Yarmuth (D)
2004 Results
Congress
Northup (R) 60
Miller (D) 38

President
Kerry (D) 51
Bush (R) 49
(September 1) Louisville, KY representative Anne Northup has found herself on every "vulnerable incumbent" list since 1998. Her political demise has been predicted many times over – and she has survived every time. This has mostly to do with the fact that her district votes Democratic in presidential elections and that, in response, she has been careful to tend to district needs.
This time around – the odds seem to be in her favor. She has drawn a so-so opponent in John Yarmuth, former newspaper editor and columnist. His fundraising has been lukewarm; he is largely self-financing. And, as a former newspaper man, he has a long paper trail of columns. As it stands, the race is on hold, at least on Northup's side. Sadly, this summer she lost her 30-year old son Joshua, who passed due to an undiagnosed heart condition. This has not stopped the always-classy Moveon.org from holding anti-Northup stunts/events – which has induced the Northup campaign to cry foul. Moveon.org might be participating – but the DCCC declined to do an ad buy here, which is a sign of just how vulnerable Northup is this time around: not very.