Iowa - 1
(October 4) The conventional wisdom, including RCP's, has always had this seat as one of the Democrats best bets for a pickup. We suspect it still is, notwithstanding Zogby's latest numbers which show the Republican Whalen ahead by a whopping 13 points. The Washington Post's Chris Cillizza reported earlier this week that Republicans were feeling better about their chances here and maybe he was on to something. But President Bush wasn't able to get over 46% in either 2000 or 2004 in this district and we question at the end of the day given the prevailing anti-GOP bias as compared to '02 or '04 why Whalen will be able to best Bush's numbers.
(August 31) Before the GOP imploded in TX 22, nearly everyone agreed that Iowa's 1st Congressional District was the most likely Democratic pickup on the map this year. The district, which is in the northeast portion of the state and includes Davenport, Dubuque, Cedar Falls, and Waterloo, is moderately Democratic. This is due in part to the fact that Davenport, formerly a source of Republican strength, has been shifting to the Democrats. Ditto for Cedar Falls and Waterloo.
This year the seat is open, due to the fact that eight-term representative Jim Nussle is seeking the governor's mansion. Republicans have nominated restaurant CEO Mike Whalen and Democrats have nominated Bruce Braley, former President of the Iowa Trial Lawyers Association. Both had to suffer through expensive primaries, and so by mid-summer (the last filling report available from the FEC) the two candidates were cash strapped, though Mr. Whalen has been self-funding to an extent. More....

---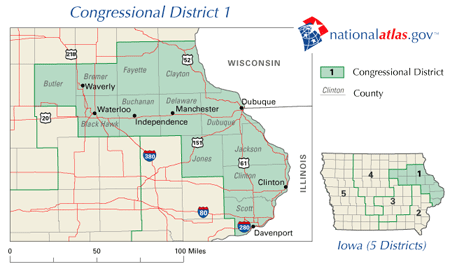 Candidates
Mike Whalen (R)
Bruce Braley (D)
2004 Results
Congress
Nussle (R) 55
Gluba (D) 43

President
Bush (R) 46
Kerry (D) 53

The contest has heated up dramatically in recent weeks. Mr. Braley and the DCCC have been pounding Mr. Whalen with attack ads on Social Security and the minimum wage. Mr. Whalen recently fired back with an ad slamming Mr. Braley for co-authoring "a book on how to sue doctors" and accusing him of contributing higher healthcare costs. An independent poll released over the weekend showed Mr. Braley holding a seven-point lead over Mr. Whalen, 44-37. The Whalen campaign was quick to point out Mr. Braley's lead is within the poll's margin of error, and that 17 percent of voters surveyed remain undecided.
Nevertheless, Democrats remain favored to pick up this seat. Open seat contests almost always come down to district partisanship. Usually, voters only cross party lines to pull the lever for an incumbent, which the folks in Iowa's 1st Congressional District have been doing for Mr. Nussle since 1992. This time, however, there is no incumbent, so Mr. Braley has the edge.