Indiana - 8
Key
State
Races: IN-2 | IN-7 | IN-8 | IN-9


(October 28)
Hostettler has been down before yet always seems to find away to get between 50% and 53% on election day. However, this may be the year that his unique way of campaigning finally catches up to him.

The Research 2000 poll with him down only seven is in some ways actually good news and means he may have a shot at surviving. But the national party looks to be throwing resources at other vulnerable seats and his opponent Vanderburgh County Sheriff Brad Ellsworth is a very conservative Democrat who fits this district quite well. Hostettler is unquestionably the most vulnerable of three GOP seats in Indiana, and one of the top 3 vulnerable incumbents overall.

(October 17)
Indiana State University released a poll this week of 625 likely voters showing Hostettler down 23 points, and while he is almost certainly not down that much, Hostettler's 19th century brand of campaigning may finally catch up to him this year.
(October 6) Indiana's 8th Congressional District occupies the central-west and south-west portion of the state, from Evansville to Terre Haute to just west of Lafayette. It has a history of turning out members of Congress one after the other – despite being reliably Republican on the presidential level – which might be one reason why there is another tight contest this year.
But it certainly is not the only reason. The tightness of this race is mostly explicable by the peculiar campaigns the member from this district has insisted upon running since his surprise election in 1994. This is John Hostettler – one of the few House members who always run "non-traditional" campaigns. He refuses to raise PAC money, and he is almost always outspent by his opponent. (More below....)
---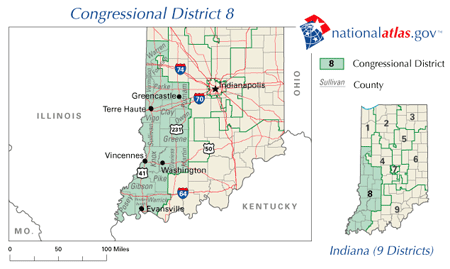 Candidates
John Hostettler (R)
Brad Ellsworth (D)
2004 Results
Congress
Hostettler (R) 53
Jennnings (D) 45
President
Bush (R) 62
Kerry (D) 38
He relies heavily upon the strong affections that many in the district has for him – he is a darling of the Christian right. Nevertheless, the NRCC always has to come in and bail him out with major ad buys. From a certain perspective, Hostettler is a model of consistency – earning vote totals of 52% or 53% in four out of five election contests, despite repeated Democratic attempts to unseat him. From another perspective, one that acknowledges that there is a reason most incumbents run the types of campaigns they run, Hostettler's days might very well be numbered. In this type of campaign setting – one with lots of media, lots of money, lots of professional advice – how can a candidate who stubbornly refuses to follow the pack survive?
He seems to be in more trouble this year than ever. He has drawn Brad Ellsworth – Vanderburgh County Sheriff (Vanderburgh County includes Evansville) – as his opponent. Ellsworth is socially conservative, and has thus far given Hostettler a real fight. Polls show the latter down – often not insignificantly – to Ellsworth. Of course, Hostettler has seemed to be doomed in the past, and has always managed to squeak out victories. Can he do it again?