Indiana - 2
Key State Races: IN-2 | IN-7 | IN-8 | IN-9

(November 1) Like so many races, the polls are mixed as far as how much Donnelly is ahead. We were tempted to move this race over to Leans Dem, but the continued tightening in the WSBT-TV/Research 2000 polls from eight in September, to five in October, to three points in their latest taken just Monday and Tuesday indicates to us Chocola is making a late charge. The Zogby poll showing a 13-point lead for Donnelly doesn't jive with anything we hear in this race, no other non-partisan polls in October have show anything over 5 points. We feel pretty strongly the 13-point poll it is an outlier.
Donnelly has the edge, but Chocola isn't dead yet.

(October 19) This is in many ways one of the bellwether House races for control of Congress. Indiana's second congressional district voted 53% for Bush in 2000 and 56% for the President in 2004. Chris Chocola lost to former Rep. Tim Roemer in what was Indiana's 3rd district in 2000, but managed 47% of the vote. In 2002, in an open seat race, he defeated a formidable opponent in Jill Long 50% - 47% in Indiana's new 2nd district. And in 2004 he handily won reelection against his current opponent Joe Donnelly 54% - 45%.
Perhaps his easy win in 2004 bred a certain level of overconfidence in Chocola, but he without question finds himself in a battle today. Donnelley has led in most of the public surveys, including a Republican poll released just a week ago by a point, Donnelley 45% - Chocola 44%. Indiana's decision to lease a major toll road in Chocola's district appears to be really hurting the incumbent along with the switch to daylight savings time, a quirk that had been in effect in parts of the district. The latest Research 2000 poll just released today gives Donnelly a 5 point edge, 50% - 45%.
Chocola has the resources, and this is a Republican leaning district, but he may have let this race get away from him over the summer.
This is exactly the type of race Democrats need to win to capture the House.
---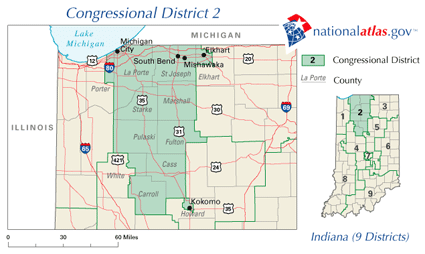 Candidates
Chris Chocola (R)
Joe Donnelly (D)
2004 Results
Congress
Chocola (R) 54
Donnelly (D) 45
2004 Results
President
Bush (R) 56
Kerry (D) 43