Illinois - 8
Key State Races: Governor | IL-6 | IL-8

(October 30) The Chicago Trib poll from last week showing Bean with a 19-point lead is looking more and more like an outlier with the release of a Daily Herald poll last night showing a three point race. McSweeney is still facing an uphill battle to pull of the upset, but he's within striking distance. The ingredients for a McSweeney win are: 1) consolidate and turn out his base, 2) hope for low turnout by independents and 3) pray third-party anti-war candidate Bill Scheurer pulls enough votes - he's at 8% in the Herald poll but probably will be lucky to get half that - to tip the balance against Bean and in his favor.
(October 21) The Chicago Tribune poll is bad news for McSweeney, and while there is no question this race is considerably closer than 19 points, Bean has made the right votes in this district in her first term to assure Republican-leaning business types she can be a Democrat they can work with. RNC polling in this race shows McSweeney only down two, but today you would have to give the edge to the incumbent Bean. (More below...)
---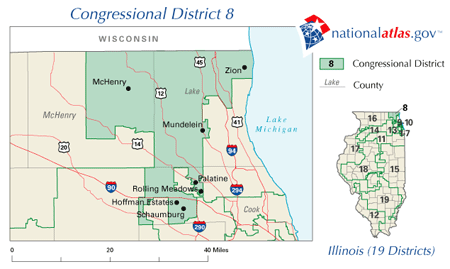 Candidates
Dave McSweeney (R)
Melissa Bean (D)
2004 Results
Congress
Bean (D) 52
Crane (R) 48
President
Bush (R) 56
Kerry (D) 44
(October 19) Melissa Bean is the highest ranked Democrat on our House list (currently #33). A new RT/Strategies poll showed her with a slight 3 point lead - basically unchanged from six weeks ago - while a DCCC poll gives her a much larger cushion. McSweeney is a decent candidate who has run a solid campaign, and Bean has run a very conservative race thus far, limiting most direct engagement and essentially playing hide the ball.
One possible tell on this race is the latest filing. McSweeney was dead broke coming out of a five-way primary in March, while Bean was sitting on something close to $2.5 million. McSweeney has brought in a host of heavy hitters (Rudy twice, McCain once, President Bush last week, etc) and he's also written a couple of personal checks.
As of the latest filing, McSweeney now has just over a 2 to 1 cash on hand advantage over Bean, $688k to $324k. So Bean has burned through more than $2.2 million over the last 12-15 weeks, but McSweeney has been able to match her dollar for dollar and keep this race competitive.