Illinois - 6
Key State Races: Governor | IL-6 | IL-8

(October 30) The internals of the latest poll by the Daily Herald should concern the Duckworth campaign. Roskam leads 47-40 in DuPage County which accounts for 4/5 of the district vote. Duckworth leads 50-41 in the Cook County portions of the district, but overall you can see the sort of serious structural disadvantage she faces. Also of concern, Duckworth's favorable/unfavorable rating is at 41/40, Roskam's is 40/34, which seems to indicate the negative tone of the campaign has taken its toll on both candidates. That's a bigger problem for Duckworth than it is Roskam, as she'll need a strong showing by both Democrats and Independents - as well as some crossover Republican votes - to score a victory on Election Day.

(October 19) Tammy Duckworth receieved the endorsement of the Chicago Tribune today. Far more important, however, was the news this week that she only has $200k left in the bank while Roskam has more than a million and a half. The DCCC has come in with $2.3 million in attacks ads to try put Duckworth over the top, but this one is close and will come down to turnout. Roskam is a well established figure with an excellent ground game. The question is whether Duckworth, a first time candidate with no roots in the district, will be able to muster a strong enough GOTV effort of her own. (More below...)
---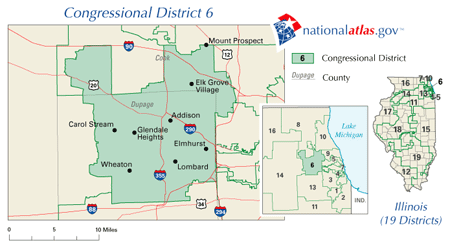 Candidates
Peter Roskam (R)
Tammy Duckworth (D)
2004 Results
Congress
Hyde (R) 56
Cegelis (D) 44
President
Bush (R) 53
Kerry (D) 47
(September 14) Yes, Virginia – there are Republicans in Chicago! Technically, at least. Illinois's 6th District takes in O'Hare Airport, which is technically within the city, but feels like a suburb. The heart of the district is really in DuPage County, a western suburb of the city. This is Elmhurst, Villa Park, Lombard, Wheaton, Bloomingdale. Residents in the 6th tend to be white and wealthy, and they have become culturally moderate over the last decade and a half. This might be why Republican Henry Hyde won in 2000 with only 59% of the vote, and in 2004 with only 56% of the vote. Bush carried the district with 53% both times. Hyde's tenure as chairman of the International Relations Committee is coming to an end, so – after 16 terms – he is stepping down. The GOP has rallied behind state senator Peter Roskam to replace Hyde. Roskam is probably the strongest GOP challenger this cycle – and he has raised an impressive amount of money. The Democrats have nominated Iraq War veteran Tammy Duckworth – a candidate with an impressive personal story, but who struggled early in her quest to take the seat. She had a disappointing primary result and subsequently fired her campaign manager. Since then, however, she has done a good job in raising cash. Of note is the fact that she is actually not a district resident. She lives in the part of Hoffman Estates that is in IL 08 (the site of another tight race between Democrat Melissa Bean and Republican David McSweeney). This is an issue that her primary opponent, Christine Cegelis, used to soften her numbers in the spring. Will Roskam use the same in the fall?
Roskam would likely get a boost from a strong result from GOP gubernatorial candidate Judy Baar-Topinka. Recent polls show her down against incumbent Rod Blagovich, who nevertheless still seems a bit soft. If Baar-Topinka carries DuPage by a big margin, Roskam will be aided.