Florida - 22
Key
State
Races: Governor | Senate | FL-13 | FL-16


(October 21) Shaw's seat is a very competitive district that went 52% – 48% in the presidential race for the Democrat in both 2000 and 2004. After one of the closest House races in the country in 2000, Republicans in redistricting removed the Miami-Dade portion which Shaw lost 67%-33% in 2000. With a more favorable district he won handily in both 2002 and 2004 with over 60% of the vote.
This race had been high up on Democratic target lists but looks to have slipped as the campaign has entered the final stretch. Klein probably would have won this district how it was drawn in 2000, but running in the current 2006 lines he looks likely to come up a little short.
(September 4) In the universe of peculiar congressional districts – Florida's 22nd district ranks up there with the best of them. The district covers much of South Florida's eastern beachfront property – from Palm Beach County all the way to Broward. Along the way, it picks up bits and pieces of Plantation, Coral Springs, Boca Raton, Delray Beach and Glen Ridge. What makes it peculiar is the studiousness with which it avoids precincts composed of African-Americans, who were placed into Alcee Hastings' 23rd Congressional District. As Michael Barone notes, "The resulting district is affluent, elderly, with a large Jewish population politically very active in condominium groups."
In both 2004 and 2000, the district gave Bush 48% of the vote. It has been held by Clay Shaw, the #2 Republican on the influential Ways and Means Committee, for 13 terms. The Chairman, Bill Thomas of California, is not seeking reelection. So, if Shaw wins this election, he will likely become chair of this powerful tax-writing committee. The key word in that sentence is "if."
This time, Shaw has drawn a well-funded opponent, Ron Klein, state senate minority leader. Klein has distinguished himself as the best-funded of all Democratic challengers to date. This is the principal reason Shaw finds himself so high on our list. Shaw, for his part, is the best funded of all Republican incumbents. Both candidates are already running ads. Republicans hope to make the campaign an issue about the global war on terror; Democrats hope to turn it into a referendum on Iraq. Sound familiar?
---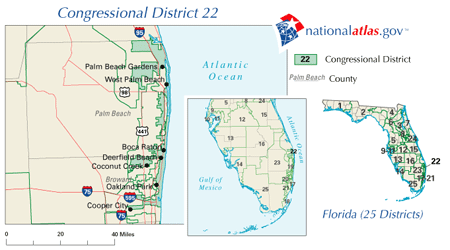 Candidates
Clay Shaw (R)
Ron Klein (D)
2004 Results
Congress
Shaw (R) 63
Rorapaugh (D) 35

President
Kerry (D) 52
Bush (R) 48