Florida - 16
Key State Races: Governor | Senate | FL-13 | FL-22

(October 28) At the end of the week the First District Court of Appeal ruled that the GOP could put signs up at polling places telling voters that a vote for Foley is a vote for Negron, if they also say that a vote for the Democrat Mahoney is a vote for Mahoney. This is good news for the GOP and gives them a little better shot at holding the seat. But this isn't exactly a rock-ribbed Republican district as Kerry received 46% here in 2004, only a single percent worse than he did statewide. Like TX-22 hard to see how the GOP holds this seat.

(October 19) Republican hopes of hanging onto the seat of disgraced Congressman Mark Foley's seat suffered a blow today with the ruling of a Florida judge disallowing flyers at polling places explaining the ballot circumstances in FL16. Joe Negron's campaign said they will appeal the ruling.
(October 3) Foley's abrupt resignation has moved this from a safe Republican hold to a top 5 Democratic pickup opportunity. Because of the timing of Foley's resignation Republicans are unable to switch his name on the ballot or provide a write-in candidate, so Republicans wishing to vote for the GOP nominee Joe Negron will have to actually vote for the disgraced Mark Foley in November. (More below...)
---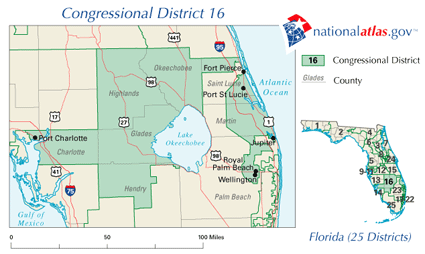 Candidates
Joe Negron (R)
Tim Mahoney (D)
2004 Results
Congress
Foley (R) 68
Fisher (D) 32

President
Bush (R) 54
Kerry (D) 46