Florida - 13
Key State Races: Governor | Senate | FL-16 | FL-22

(October 29) From a registration standpoint this is a heavily Republican district, but it has been trending more Democratic over the years much like the overall state has on a presidential level. Katherine Harris fresh off the Bush vs. Gore recount controversy, where she became very popular in many Republican circles, walked into this race in 2002 with the retirement of 5-term Republican Dan Miller.

But even with a heavy Republican registration advantage she was fortunate to face a very liberal Yale law school grad, Washington lobbyist in Jan Schneider, who she beat 55% – 45 %both in 2002 and 2004. Democratic leaders succesfullly encouraged the more moderate Christine Jennings to run for this seat in 2004, but Schneider beat her in the primary 47% - 38%. This year Jennings, a former Sarasota bank president, beat Schnieder 62% - 28%.
With a candidate more attuned to the ideological leanings of the district and given the difficulties Republicans are facing this cycle, this is a seat the Democrats are well positioned win. But it would be a mistake to count the Republican Buchanan out. This is a GOP district that President Bush carried with 56% of the vote against Kerry and this is a district where the Republican GOTV can make a huge difference.
---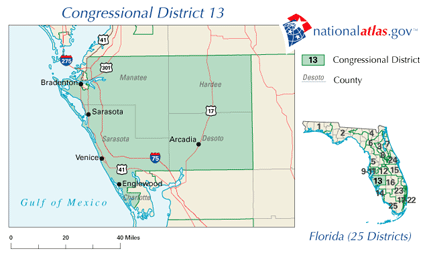 Candidates
Vern Buchanan (R)
Christine Jennings (D)
2004 Results
Congress
Harris (R) 55
Schneider (D) 45
President
Bush (R) 56
Kerry (D) 43