Connecticut-5
Key State Races: Senate | Governor | CT-2 | CT-4 | CT-5

(October 30) Curt Weldon is not the safest of all the Philadelphia area Republicans any more and Nancy Johnson may no longer be the safest of the three embattled GOP incumbents in Connecticut. Today's Hartford Courant poll from the University of Connecticut shows Democratic challenger Chris Murphy ahead by 4 points, 46% - 42%. The worst news for Johnson is this from the Courant story:
Geographically, the UConn poll also shows Johnson in trouble in one crucial area of the district - the affluent, educated Farmington Valley suburbs of Avon, Canton, Simsbury and Farmington. In her past two elections, Johnson has racked up tallies of 60 percent or more in these towns. But the UConn poll apparently shows that Johnson's support there has been cut roughly in half, with Murphy leading among likely Farmington Valley voters by 52 percent to 36 percent.
This is a potentially ominous sign for Johnson as she will need closer to half the vote in the affluent Farmington Valley suburbs as opposed to a third if she hopes to weather the storm this year. These affluent, educated voters now moving towards Murphy are Republican leaning voters who are almost definitely upset with the present course in Iraq and taking it out on Nancy Johnson.
This poll does cut against some of the other evidence that we have been hearing from Connecticut and could be part of a little bit of momentum Lamont has picked up the last week. The three Connecticut House districts had appeared to be shifting away from the Democrats since August and Lamont's win, but the increased level of negative news out of Iraq may be giving Murphy a critical push at the end, which is liable to also be felt in CT-2 and CT-4.
---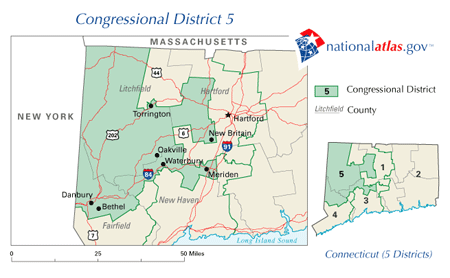 Candidates
Nancy Johnson (R)
Chris Murphy (D)
2004 Results
Congress
Johnson (R) 60
Gerratana (D) 38

President
Kerry (D) 49
Bush (R) 49
(August 29) If Curt Weldon is the safest of all Philadelphia-area Republicans, Nancy Johnson is the safest of all Connecticut Republicans. It is no coincidence that both of them are the most senior Republicans in their respective areas. Johnson won election to Congress in 1982 – an impressive feat, considering how rotten the results were for Republicans nationwide. She has had some close scrapes since them – most notably in 1996 when she barely won reelection. The closeness of that contest had to do with her relatively close relationship with Newt Gingrich. She was the chair of the House Ethics Committee when the Democrats brought charges against him.
She will face a touch challenge this year in State Senator Chris Murphy, who so far has done a superb job in the fundraising game. The 5th District – which occupies the northwest corner of the state and includes Danbury – is the most Republican in the state. Kerry only won it by 1,000 votes. Moveon.org entered this race early on with an attack on Johnson's support of Bush's prescription drug plan; this might have been a good thing for Johnson, who seems to have shaken off whatever rust that she's developed in the 10 years since she faced a serious challenge. She has a reputation in the House as a moderate leader on health care policy, and she has been touting that in her reelection campaign. Good news for Johnson – in a recent Democrat-sponsored poll that was 40% D to only 28% R, she still had a 5% lead. Here is an interesting possibility: Bill Thomas is not coming back next year and Clay Shaw has a dog fight down in FL 22. Johnson – as the 3rd most senior Republican on Ways and Means – could very well find herself as its chairwoman in the 110th Congress.