Connecticut-2
Key
State
Races: Senate | Governor | CT-2 | CT-4 | CT-5


(October 20)
Incumbent Republican Rob Simmons in Connecticut 2 is not a guy who is being caught by surprise that he is in a tough race. Kerry and Gore both got 54% in his district, and he is regularly targeted as a prime pickup target by Democrats. This year is no exception. Simmons was extremely visible in the fight to save the New London sub base in his district and he is using that dramatic success very effectively in the campaign against Courtney.
A just-released poll by the University of Connecticut gives Simmons a small two point lead. Lieberman's likely substantial victory over Democrat Ned Lamont (he leads Lamont by 12.2% in the latest RCP Average) is also working to help Simmons on the margins, as well as the very popular Republican Gov. Jodi Rell who is cruising to reelection.
This race continues to drop on our list of competitive house seats and is currently ranked #22. Simmons holds the advantage as we enter the home stretch.
(September 2) Connecticut's 2nd District covers the eastern 2/5th of the state from the north to the south. It is, by far, the most rural of all of Connecticut's five congressional districts. In the 90s, the economic base shifted from energy to tourism – and, during that time, the district has shifted toward the Democrats. In 2000, Bush carried just 40% of the vote. This is what was so surprising about Rob Simmons' surprise victory over 10-term incumbent Democrat Sam Gejdenson that year.
Since then, Simmons has faced challengers who have been able to spend at least $1 million. This year, he faces a rematch against his 2002 opponent, former state representative Joe Courtney – who had raised more by mid-summer than he had in all of 2002. Simmons has been stressing his independence in Congress; Courtney has been doing everything he can to tie Simmons to Bush. A feather in Simmons' cap: he has the support of a good portion of labor leaders. While the AFL-CIO has endorsed Courtney, Simmons has the support of several dozen labor leaders – and he has raised more than $100,000 from labor sources.
---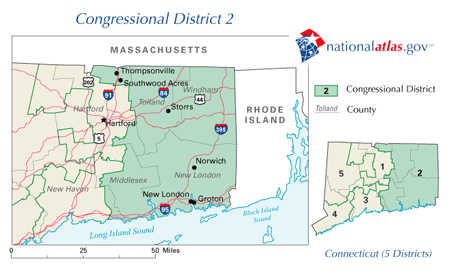 Candidates
Rob Simmons (R)
Joe Courtney (D)
2004 Results
Congress
Simmons (R) 54
Sullivan (D) 46

President
Kerry (D) 54
Bush (R) 44