Pennsylvania - 7
Key
State
Races: Senate | Governor | PA-4 | PA-6 | PA-7
| PA-8
| PA-10


(October 21) Weldon, like his Pennsylvania colleague Don Sherwood is in a world of trouble.

Of the three GOP Philadelphia suburban districts that the Democrats had set their sights on this cycle Weldon's seat had always thought to be the one least likely to flip, today it is the most likely. After Don Sherwood and Jeff Hostettler, Weldon is now the most vulnerable incumbent on RCP's list. Whatever the merit of Weldon and his daughter's situation with Russian business deals, the sight of FBI agents carting boxes out of your daughter's apartment three weeks from an election where you are in a very close race is not good news. Weldon is a fighter and his problems are not as acute as Sherwood's in PA-10, but his district is a Democratic-trending district that voted 51% for Gore in 2000 and 53% for Kerry in 2004. We think Weldon is in trouble here in 2006.
(September 3) Of all three vulnerable Philadelphia-area Republicans, 10-term veteran Curt Weldon is probably the safest due the fact that his roots in the district go deeper than either 1st termer Mike Fitzpatrick or 2nd termer Jim Gerlach. Don't misunderstand, though: Weldon is not necessarily safe. His district, which includes most of Delaware County in the southeastern corner of the Commonwealth and is home to Swarthmore College, has been trending Democratic in the last few elections. Bush did worse here in 2004 than he did in 2000.
This year, Weldon has drawn a serious challenge from retired Navy Admiral Joe Sestak, who thus far has demonstrated a gift for fundraising. Since his first election back in 1986, Weldon has not faced a serious challenge. Will he be sharp enough for this contest? So far, Weldon has been touting his local roots and Sestak has been trying to tie Weldon to Bush. PA 07, therefore, gets to the big question of this election: will voters come to identify individual Republican members with what they do not like about Bush?
---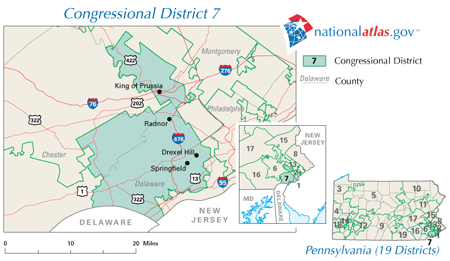 Candidates
Curt Weldon (R)
Joe Sestak (D)
2004 Results
Congress
Weldon (R) 59
Scoles (D) 40

President
Kerry (D) 53
Bush (R) 47