Ohio - 1
(October 6) Ohio's 1st Congressional District includes all of Hamilton County and about 1/3rd of neighboring Butler County. It thus consists of Cincinnati and the northern/western suburbs. Politically, the district leans Republican, but not by much. George W. Bush carried it with 51% of the vote in both of his elections. It has a strong base of support for Democrats in the African-American vote, which comprises more than 25% of the electorate.
The representative from Ohio 01 is Steve Chabot, former Cincinnati city councilman and House member since 1994. He has not yet established himself as a truly safe incumbent – it was only in his fifth election, in 2004, that he earned 60% of the vote. This is one reason why the Democrats initially targeted the seat this cycle, and they have successfully managed to offer Chabot a serious challenge. His opponent is John Cranley, himself a member of the Cincinnati city council. Cranley has done an excellent job fundraising and has been pummeling Chabot for connections with special interests and his pro-Bush voting record (not that either of these are especially noteworthy – the real issue is whether this Democratic boilerplate will work in Southwest Ohio).
How will this race shake out? Keep your eye on the Ohio Senate polling numbers. If they break in one way or the other before Election Day, we will have a hint of how much trouble both Chabot and Deborah Pryce (in OH 15) are in. District-level polling is particularly dicey, so the Senate contest can serve as a good proxy for how warm Ohio Republicans and Independents feel toward GOP candidates. If Republicans are not coming home to DeWine, and Independents are moving heavily toward Brown, expect similar problems for Chabot and Pryce.
---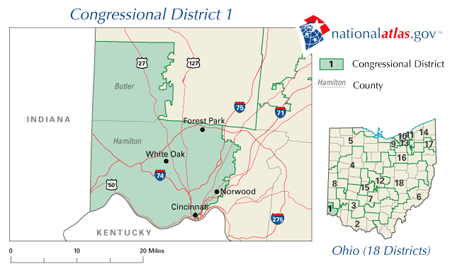 Candidates
Steve Chabot (R)
John Cranley (D)
2004 Results
Congress
Chabot (R) 60
Harris (D) 40

President
Bush (R) 51
Kerry (D) 49
All Commentary & News Stories