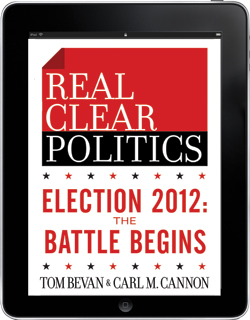 For the first time, get real time insights into the 2012 presidential campaign with the RealClearPolitics eBook series. Tom Bevan and Carl M. Cannon will provide real-time accounts of the 2012 race by publishing three news-breaking eBooks throughout the coming months. The first eBook in the series, "Election 2012: The Battle Begins," will give readers an in-depth look at what has occurred to date as President Obama and the GOP candidates maneuver toward Election Day 2012.
About the Authors:
Tom Bevan is the co-founder and Executive Editor of Real Clear Politics. Over the last eleven years under Tom's editorial leadership, RCP has grown into one of the most widely read and well-respected independent political sites on the Internet.
Carl M. Cannon, Washington Editor of RealClearPolitics, has covered every presidential campaign and convention since 1984—and interviewed every U.S. president since Gerald Ford. Carl covered the White House for 15 years, during both the Clinton and Bush administrations, winning the two most prestigious journalistic awards for coverage of the presidency.