Edwards' Missing MoJo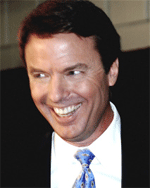 When John Edwards announced his intention to run for president last year, he was immediately considered a top tier candidate in the Democratic field: He had already demonstrated considerable political skill and an ability to raise money in his strong 2004 showing. He also was seen as benefiting from an even more front-loaded primary schedule in 2008 that should work in his favor.
But for someone as smooth as Mr. Edwards, the first few months of his campaign have been anything but. While his two main rivals have been sucking up media oxygen with dueling announcements and maiden tours to early primary states, Mr. Edwards has managed to make only a few headlines -- none of them good.
First, he took flack from his base for giving a hawkish, saber-rattling speech on Iran, telling an Israeli audience that "all options" were on the table and that "under no circumstances can Iran be allowed to have nuclear weapons." Shortly thereafter, news broke that Mr. Edwards, whose central campaign theme is closing the economic gap between the "two Americas," is living in a newly constructed 28,000 square-foot estate outside Chapel Hill, N.C., worth an estimated $6 million.
The biggest embarrassment came two weeks ago when Mr. Edwards hired two left-wing feminist bloggers to run his campaign web site, only to have their history of writing vulgar and inflammatory posts revealed. After receiving extreme pressure from his left-wing base, Mr. Edwards at first kept the women but tried to distance himself from their remarks. Both resigned less than a week later.
The latest snag for the Edwards campaign is a story in Variety that quotes him as telling a Hollywood fundraising group that Israel bombing Iran's nuclear facilities is the "greatest threat to short-term world peace." Yesterday Mr. Edwards' campaign denied he made the remark, but Variety is standing by its reporting.
As you'd expect, the net results of Mr. Edwards' missteps is that he's losing ground in the polls. Nationally, he remains mired in third place, ten points behind Barack Obama and close to 30 points behind Hillary Clinton. More concerning, however, is that he appears to be slipping in Iowa, one of his strongholds and a place where he must finish well if he wants to have a shot at winning the nomination.
Two recent polls tell the tale: A new survey by Strategic Vision shows Mr. Edwards' lead has slipped to six points, down four points from the previous month. A Zogby poll released last week is even worse: The 11-point lead he held in January has completely evaporated.
With the Democratic hopefuls attending their first "candidate forum" yesterday in Nevada, the race is only beginning, and there'll be plenty of time for Mr. Edwards to recover his mojo. But even at this early date, Democrats are searching the field looking for a winner. Mr. Edwards' bumbles have raised doubts about his political skills in a year when Democrats believe the presidency is theirs for the losing.