TX-22: Lampson vs. 6 Syllables and a Hyphen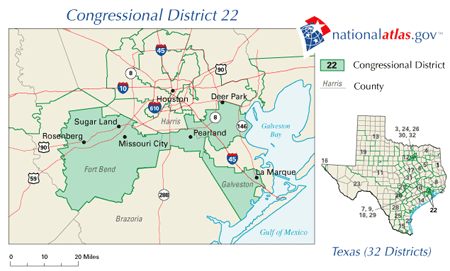 Texas's 22nd District stretches across the southern suburbs of Houston - from Sugar Land in the West to Pasadena in the East. It has been the locus of rapid development in the last few decades, and it is quite conservative. Bush enjoyed 67% of the vote in this district in 2000, and 64% in 2004.
We all know why it is as vulnerable as it is this year - Tom DeLay. After initially being indicted by Austin D.A. Ronnie Earle, DeLay ostensibly perceived he could win reelection. His tepid performance in the spring primary, and - in all likelihood - soft internal poll numbers, convinced him otherwise. He resigned from Congress and withdrew from the ballot. Texas Democrats sued Texas Republicans to keep the latter from putting a new name on the ballot. The Courts sided with the Democrats.
This is the sort of condition we need to have to see a district as conservative as TX 22 go to the Democrats: either the Republican has to be under indictment or there has to be no Republican on the ballot. And so there is none. Former representative Nick Lampson - who represented Texas's 9th District (prior to the 2003 redistricting) - is poised to win. This despite the fact that his political roots are in Beaumont, TX in Jefferson County, which is over 100 miles from Sugar Land and that, in the 108th Congress, he racked up only a score of 23% from the American Conservative Union.
This will be a win by default. As the saying goes - you can't beat somebody with nobody.
Technically, the Republicans have nobody. But the local GOP has managed to coalesce around their "nominee" - Houston City Councilwoman Shelly Sekula-Gibbs. She is their write-in choice for the seat. The obvious question: how will enough voters manage to write-in a candidate whose name has six syllables and a hyphen? They will get some help from Texas Governor Rick Perry, who recently mandated that, on the general election ballot, there would also be a special election ballot to fill the remainder of DeLay's term in the 109th Congress.
Will this be enough? The smirk, or grimace, on your face is your answer.