Travels With Andre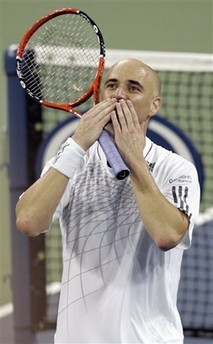 Like many people, I despised Andre Agassi when he first showed up on the national tennis scene with his long hair and his "image is everything" persona. Now, like millions of fans, Agassi is one of my favorite figures in all of sports.
Agassi is playing in his final U.S. Open, which will also be the final tournament of his career. Yesterday he needed 3 1/2 hours to come back and beat Andrei Pavel in his opening match, as 20,000 fans stood in Flushing Meadows and cheered him on at match point.
Las Vegas Weekly put together a tribute to Agassi which includes a brief piece by David Granger, the editor of Esquire, and another by Ron Kantowski, a sportswriter for the Las Vegas Sun.
The gem of the bunch, in my opinion, is this piece by Andrew Corsello, a writer for GQ Magazine, in which Corsello recounts his first encounter with the 8 year-old tennis phenom from Las Vegas. It is an absolute scream. But it also pinpoints the origin of Agassi's brashness: his extraordinary talent and gift for the game which precious few players have known.
It's been a marvelous journey to watch Agassi's transformation from a cocky young kid into a humble, hardworking man who has fans cheering his every point and now hoping the magic will last just two more weeks. Whatever the outcome at the U.S. Open, I, for one, am going to miss seeing Agassi's now trademarked bald head, his pigeon-toed shuffle, but most of all, his heart.
(Photo: Ann Heisenfelt, Associated Press)
UPDATE: Here's a nice tribute to Agassi's final appearance at Wimbledon on YouTube: