The 'Stooges' Debate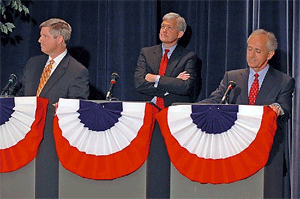 Ed Bryant, Bob Corker and Van Hilleary, the Republicans running for the Tennessee Senate nomination recently dubbed "the three stooges" by Democrat Harold Ford, debated each other last night. Details on the debate here.
The primary is three weeks away, and will take place on Thursday, August 3. The day after that Bubba will be in town on behalf of Tennessee Democrats and will also make a star turn at a separate event for Ford's campaign.
(Photo: Jeff Adkins, Knoxville News-Sentinel)