Beating McKinney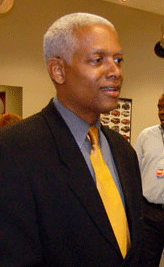 When DeKalb County Commissioner Hank Johnson announced last December he was taking on Cynthia McKinney, it seemed a bit quixotic. But that was before the Congresswoman from Georgia's 4th district sparked another national uproar by smacking a Capitol Hill police officer in late March, an event which has now placed her in serious peril of becoming an ex-member of Congress - for the second time.
Johnson's strong showing in the primary last Tuesday puts him in an excellent position to knock McKinney off on August 8. As noted here, history shows that when incumbents are forced into a runoff, it usually means bad news for them. McKinney received 47.1% of the vote to Johnson's 44.4%, with John Coyne picking up 8.5%. Coyne, who is white and does not live in the district, ran on a "boot-McKinney" platform, so a good share of his vote from last Tuesday, particulary the 4,000+ votes he received in DeKalb, should flow naturally toward Johnson.
When I spoke to Commissioner Johnson via phone last week, he said his strategy for the next three weeks remains the same as it has been since the beginning: pound the pavement, meet voters personally, and explain to them why he'd be a more effective representative than McKinney. "Politics is a team sport," he said, adding that McKinney's brash style has undermined her relations with fellow Democrats as well as members of the black caucus - all to the detriment of constituents in the 4th district. Johnson thinks a "tipping point" has been reached in the district and that voters are fed up with McKinney's "antics" and her unpredictable behavior.
As always, turnout will be key. Turnout last Tuesday was shockingly low: only 61,888 total votes cast (26% of registered voters) versus 117,670 cast in the 2002 primary. An analysis by the Atlanta Journal Constitution this morning shows that decreased turnout hurt McKinney across the board, and with turnout for the runoff expected to be as low or even lower than the primary, the question is whether she can whip up enough of a ground game to pull this one out.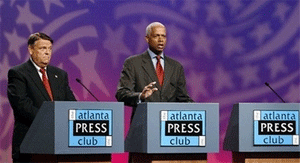 Another key may be the debate. Much was made of McKinney's decision to skip the primary debate with Johnson and Coyne. I asked Johnson how much of a factor he thought it was in the primary outcome, and he said that while it definitely hurt McKinney, "she would have been hurt as well" by showing up and having to debate the issues with him.
I suspect we'll get to test that proposition, since the Atlanta Press Club is sponsoring another debate set for July 31 at 7:30pm. Johnson has already agreed to attend. As of last week McKinney had not, but I can't imagine she thinks she can get away with skipping this one without crippling her chances on August 8.