A Huge Step in Iraq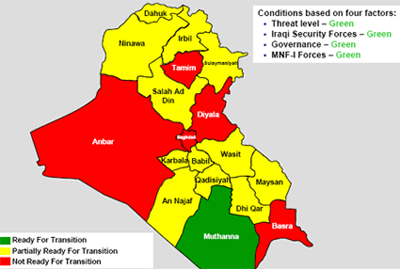 Maj. Gen. William B. Caldwell held a press briefing today discussing the impending turnover of security forces in the Muthanna province in southern Iraq. Caldwell described it as a "huge step", and I don't think that's in any way an overstatement.
Muthanna will be the first province in Iraq to assume total control of its security forces: all mutlinational forces will withdraw from urban areas and take on a supporting role, while the local police will assume full responsibility and be under the direct control of Muthanna's governor. In addition to being another sign of slow but steady progress in Iraq, Muthanna also represents an important test case for the future transition of the rest of the country's security forces.
General Caldwelll stressed that the transition to "provincial Iraqi control has many long and difficult days ahead" and also that it's not something that will be rushed to accommodate political concerns:
The transfer of security responsibility in Muthanna province remains a very real and tangible beginning to a new phase in the history of Iraq. Take note: This is just the first province of 18 that will go through this process; a process that is not driven by any timeline other than the readiness of leaders and the people of each Iraqi province. Muthanna now begins that journey. Transitions to provincial control are conditions-based. They can neither be rushed nor fabricated, but they can be crafted by diligence, stewardship, patience and the vision of the Iraqi people.
As you can see from the graphic above showing security assessments in Iraq for May, this is going to be a huge, arduous undertaking. But a successful transition in Muthanna will be a tremendous first step down that road.