Assessing Manchin's Chances in West Virginia
ANALYSIS
When this cycle started out, there were five Senate seats held by Democrats that most observers thought were in grave peril: those in Indiana, North Dakota, Montana, Missouri and West Virginia. It isn't terribly surprising that the Montana seat is the least competitive of the bunch, since Sen. Jon Tester won against a strong opponent in 2012 while President Obama was losing the state by 14 points, and this year seems like a worse environment for Republicans than 2016.
What is more surprising is that Sen. Joe Manchin is probably in the second best shape of the five. The RCP Polling Average shows him leading his opponent by seven percentage points, with leads of double digits in two of the last three polls.
Why is this? There are two key reasons. First, Manchin is simply a good fit for the state, ideologically. While we tend to think of states under a red/blue dichotomy, the truth is messier, even in these polarized times. At the national level, when voters in Massachusetts are given a choice between fiscally liberal Democrats and socially conservative Republicans, their preferences lead them to overwhelmingly choose the Democrats. In much the same way, given this same choice, voters in West Virginia now choose the Republicans.
But at the state level, things are more complicated and nuanced. State parties are better able to take on the character of their locales. In Massachusetts, Republicans are able to put up candidates who are not only fiscally liberal, but also socially liberal. Hence, Democrats have only held the Massachusetts governorship for eight of the last 28 years; incumbent Gov. Charlie Baker seems poised to extend that streak to 32 years.
It is much the same with Joe Manchin. He is a pro-life Democrat who has supported most of President Trump's appointees. He threatened to retire in January in the face of the leftward lurch by his party. At the same time, he is more fiscally liberal than the average Republican, which probably matches his relatively poor state better than would a Club for Growth-endorsed candidate.
The second reason has to do with geographic coalitions. In the GOP primary, Republicans were given a choice between former coal executive Don Blankenship, Attorney General Patrick Morrisey, and 3rd District Congressman Evan Jenkins. They chose Morrisey.
This was arguably a poor choice for going up against Manchin. To understand why, take a look at the image below depicting the political development of West Virginia since 1932.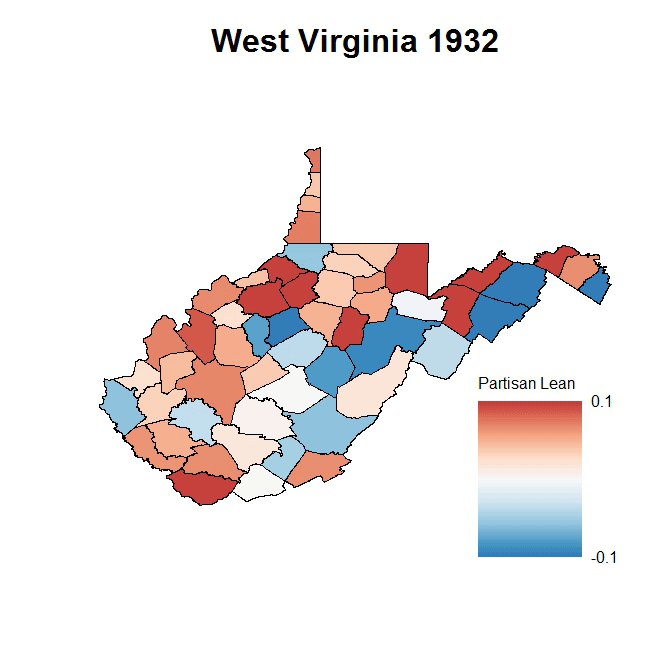 The state begins to shift toward Republicans during the 1990s, and becomes solidly red at the presidential level by 2008. The southwest, however, stays fairly blue until 2012. This mountainous area is the core of West Virginia's old coal economy. Most people who live here don't care for socially liberal candidates like Hillary Clinton, but they remain fiscally populist. At the state level, Democrats can still run well here. This region propelled then-Democrat Jim Justice to a narrow victory in the governor's race in 2016, while Manchin racked up margins of 50 percentage points or more.
Against this background, a candidate like Jenkins, who became the first Republican to represent the area since the Great Depression when he ousted a longtime incumbent in 2014, might have paired up well against Manchin. Republicans win in West Virginia by running well in the northern portion of the state, while tamping down Democratic strength in the south. Jenkins might have done this.
Morrisey will have a tougher time. Although he has the advantage of wearing the outsider's label, he also hails from New Jersey, having even sought office in the Garden State. This is not a good look for a West Virginia candidate, especially against someone who drips West Virginia born-and-bred like Manchin.
Before closing, we should have a reality check. This is still a state that has become very red, and Manchin is still below 50 percent (if barely so) in the RCP average. Most of the undecided voters most likely approve of the job Donald Trump is doing, and will probably break heavily toward Republicans. Manchin also has never faced a campaign like the one he is likely to endure; Patrick Morrisey, whatever his shortcomings, is no John Raese (who faced off against Manchin in 2010 and 2012). Manchin is not out the woods by a long shot. But this race probably couldn't be shaping up any better for him.