Mississippi's Katrina Story
Ten years ago, Hurricane Katrina devastated much of Louisiana and Mississippi, presenting government officials with the enormous tasks of saving lives, helping survivors, and rebuilding. The government response, in particular the actions of the Federal Emergency Management Agency, came in for harsh criticism almost immediately.
Haley Barbour was then governor of Mississippi, and to commemorate the tragedy's anniversary he has released "America's Great Storm," a memoir of his involvement in these events (co-written with Ricky Mathews). Barbour tells a story much different from the one most Americans are used to hearing, and he was able to respond to questions about the book via e-mail. The exchange has been lightly edited.

The standard narrative about Katrina focuses almost exclusively on New Orleans. Why do you think Mississippi gets left out, and how did the state experience the hurricane differently?
I often say that the news media doesn't like to cover airplanes that land safely. With Mississippi, the national media didn't see a story of chaos and confusion; instead, they saw a state with a citizenry that wasn't into victimhood. Our people hitched up their britches and started helping themselves and helping their neighbors. That's why I decided to write "America's Great Storm." Mississippi had an incredible Katrina story that needed to be told. The courage and character of Mississippians were there before the storm, but Katrina revealed them for all to see.

You write that "the federal government actually did a whole lot more right than wrong, certainly in my state" — but you also discuss, for example, FEMA's failures to send the supplies it had promised and to provide adequate housing. Can you discuss that tension a little bit? Is it wrong for Americans to see Katrina as a low point for the Bush administration?
Hurricane Katrina was the worst natural disaster in American history, so we were literally making it up as we went along. Much attention was given to FEMA's failed logistical system and its other shortcomings, and there were serious failures; but at the end of the day, the federal government did a whole lot more right than wrong. The FEMA people assigned to and working in our state worked their tails off, and they were good teammates and great public servants.
The federal government was extremely generous to us. President Bush leaned forward in every instance to give our citizens and local governments the maximum support allowed by law. In December 2005, Congress passed by huge margins (unanimously in the Senate) the most generous special emergency disaster assistance package ever granted after a natural disaster. And they continued to add further disaster assistance for years after the storm. While most of the money went to Louisiana, Congress was very fair to Mississippi. Again, the public and media need to be reminded of that story.

You offer many stories of heroism and kindness as examples of how Mississippi got through Katrina. Which one stands out the most to you?
As my momma used to say, "Crisis doesn't create character. Crisis reveals it." She was exactly right. I'll never forget the story my wife, Marsha, told me about a family — a husband, wife, and their six kids — who lived in a trailer that was destroyed by the storm. Marsha said it looked like a beer can that had been crushed. Marsha offered them supplies, yet they didn't want to take too much. They told her: "If you've got more, then take supplies to the little old lady across the road. She's a shut-in and probably hasn't been reached by any responders yet." Here was a family that had nothing before the storm, lost what little they had; yet they were more worried about the shut-in down the street than themselves.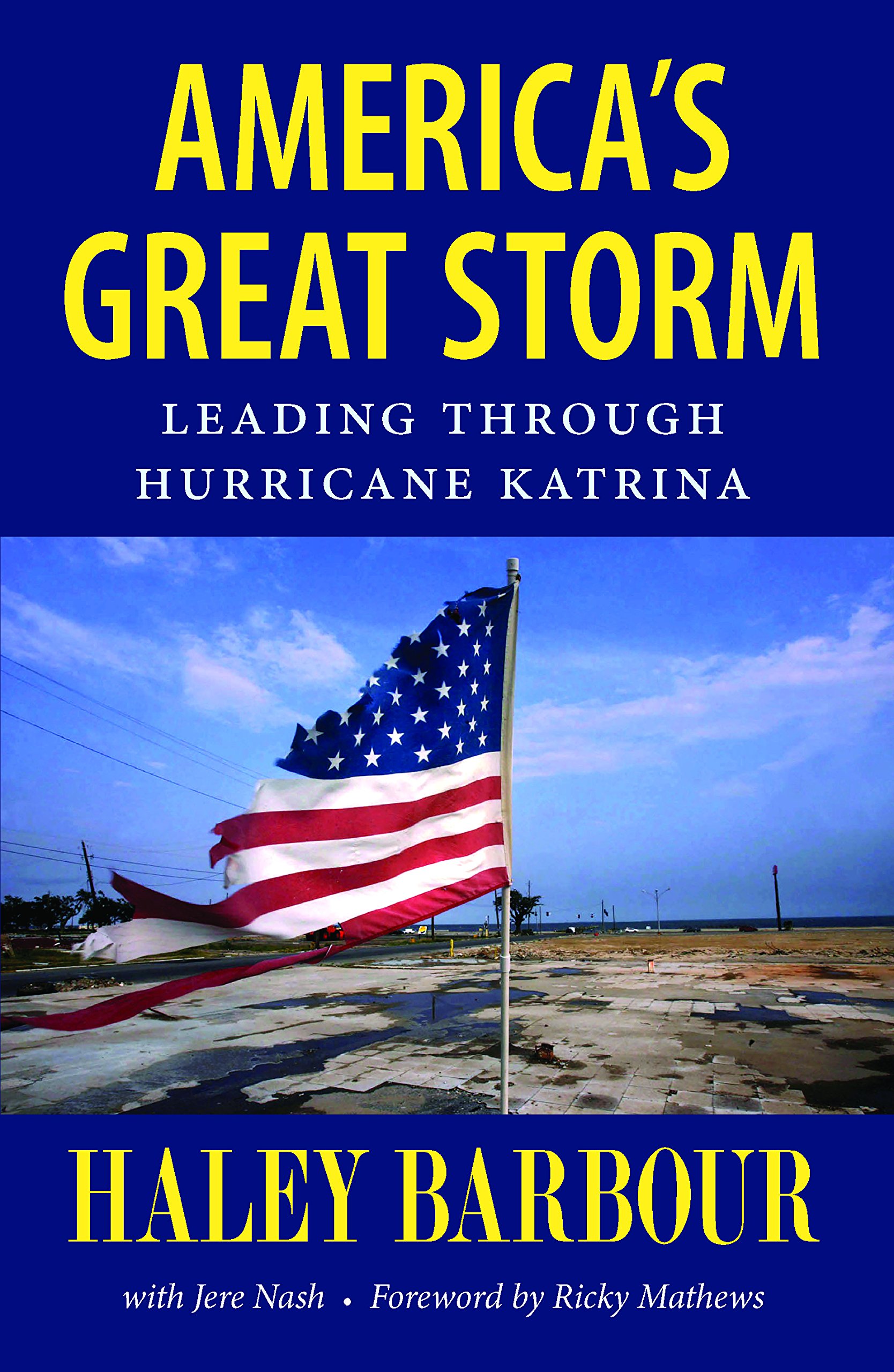 One of the more fascinating stories has to do with gaming. Before Katrina, all gambling in Mississippi had to take place on barges rather than on land, which posed obvious problems when the storm hit. And to change the law, you had to work with an anti-gambling Democrat, Billy McCoy — your political arch-nemesis — to overcome Republican opposition. What are the broader lessons here?
In politics, there is no such thing as a permanent enemy. One of the great lessons in the book is that you've got to learn how to lead a team that doesn't have to follow you. That's what we tried to do with the Mississippi legislature and Speaker McCoy. The speaker was a Democrat, and it was no secret that he and I butted heads on several legislative issues. Yet Speaker McCoy did what he thought was in the best interest of Mississippi by allowing the legislature to vote on legislation to bring casinos onshore. He did it because he put the coast's recovery first, and he also did it because he trusted that we were telling the truth.
In a crisis, someone must be in charge, and that leader needs to have a strong team to help. The leader should trust his team and be open to the public, telling them the truth. Delegate authority as well as responsibility. Make decisions, then adjust or change them when needed. Let your people help you, but know they'll often need you to tell them the best ways for them to help you. Learn to lead people who don't work for you or report to you, and therefore don't have to follow you. Lead so they will follow you anyway.

You participated in a massive rebuilding effort after the storm, from schools to housing to businesses to infrastructure. Ten years later, how is Mississippi faring? What are the biggest things you'd do differently with the benefit of hindsight?
Much of the coast and virtually all of south and central Mississippi have been rebuilt, and on the coast, rebuilt to a much more strict and resilient building code. About 57,000 new units of housing were built with some form of federal disaster assistance by the end of 2011 in the coastal counties. Private insurance claim payments equaled about $12 billion in Mississippi alone, and most of it also went into rebuilding homes and businesses. Our coast casinos are far better protected than before the storm. The transportation, electric and water/sewer infrastructure are far stronger and bigger. The school facilities are better.
The economic growth surge after the hurricane was stalled by the recession of 2008-2009; then the BP oil spill further hurt the economy. Nevertheless, the coast is generally stronger in a variety of ways, and its image was greatly enhanced by the response to Katrina. And it will continue to get bigger and better. There's no big decision I'd change, but we adjusted and even reversed a number of decisions as we went along. That's another critical lesson of leadership.
In a mega-disaster, you are making it up as you go along. You make decisions, and later you see this or that decision did not produce the best result; so you adjust or change it. From FEMA grant procedures to housing rules, we adjusted a number of previously made decisions. Knowing what we know now, those adjustments wouldn't have been needed. But you can't be afraid to make decisions, as no decision is often the worst option, because it allows bad events to go their own way after the mega-disaster. So make decisions knowing you'll have to adjust some of them later. Leaders should pray for the best but prepare for the worst.

Late in the book, you say that one thing you learned was that preparation is key — and you note that governments have become more sophisticated over the last decade in the way they approach this. Would you say we're ready for the next catastrophe? What should we be doing that we aren't?
We're more prepared than we were 10 years ago, but constant preparation — planning, training, teaching — is critical. There's no substitute for preparation.