Could ACA Sign-up Data Signal Voter Turnout Boost?
If Democratic candidates assume most minorities who enrolled for health insurance through the Obamacare marketplaces are happy about getting covered -- a reasonable hypothesis -- where might those fans of the law prove politically helpful, if they turn out to vote for Democrats in November?
Georgia might be an interesting state to consider, according to available data in a 45-page Health and Human Services Department report of the more than 8 million people who enrolled for insurance via federal and state insurance exchanges through March.
The Peach State had among the higher percentages of total sign-ups by Asian-Americans (14.8 percent), according to the consumers who reported their race or ethnicity when they enrolled (and loads of people nationwide decided to stay mum about those details). Georgia, which relied on the federal government to run its exchange, also experienced a sizeable percentage of African-American enrollees (38.6 percent).
It's no secret that Georgia's demographics have shifted, becoming less Caucasian and younger over the years. President Obama lost the state in the 2008 and 2012 without seriously contesting it, but Democratic turnout each cycle among young and non-white voters -- even as the turnout among white voters remained static -- revealed a changing population.
The president's advisers have predicted since 2010 that Latinos would be particularly enthusiastic about the benefits of the Affordable Care Act, a law that requires everyone to show proof of qualifying health insurance or pay a fine. And the law, in this first open enrollment year, will provide financial assistance to 85 percent of the 5.5 million federal and 2.6 million state-based enrollees.
Nonetheless, enrollment among Latinos (402,000) and among African-Americans (627,000) through this spring was less than the administration anticipated based on independent projections calculated at the outset, while sign-ups among Asian-Americans (300,400) nationwide appeared to exceed what experts initially forecast.
In Virginia, another demographically and politically evolving state, the latter made up 17.7 percent of that state's total. In blue-state New Jersey, they accounted for at least 16.3 percent of the ACA customers.
The border states and Florida experienced appreciable Latino enrollments, suggesting that their GOP governors (and so-so public polling about the ACA) in Texas, Arizona, New Mexico, and the Sunshine State did not paint a full picture of public response to the health law in their states. In Texas, among enrollees who identified their race or ethnicity, 33.6 percent were Latino; in New Mexico, 31.1 percent; in Arizona, 24.2 percent; and in Florida, 19.2 percent, according to HHS.
Administration officials are betting that satisfied customers will prove the most persuasive salespeople before the next open enrollment period begins in November, nearly two weeks after Election Day.
"If we can find the people that are utilizing their coverage, that are able to access preventive services, that are able to fill prescriptions at an affordable cost, that are able to pay their premiums and get quality coverage, they are spreading the word to others in their community," said Mayra Alvarez, associate director of HHS's Office of Minority Health.
But ACA outreach to Latinos and other minorities has proven to be a challenge, officials said. Misinformation, plus fears the government could abuse enrollment information may have discouraged some people from trying to qualify for health insurance, and may have kept those who did from volunteering personal information. The federal exchanges asked consumers for their race or ethnic heritage on a voluntary basis, but state-run exchanges are not required to report race and ethnicity data to HHS.
Of the 5.45 million people who selected health insurance through the federal marketplace, 34.8 percent didn't identify their race, while 92.6 percent declined to name their ethnicity, according to the report.
Nonetheless, HHS Secretary Kathleen Sebelius, who plans to leave her job this month, offered a breakdown of 3,755,008 enrollees who reported race or ethnic origin, out of the 5,446,178 who selected plans through the federal exchanges.
"Of the folks who selected a plan where race and ethnicity was reported, 10.7 percent were Latino, 16.7 percent were African-American, and 8 percent were Asian-Americans or Pacific Islanders," she announced in a conference call with reporters.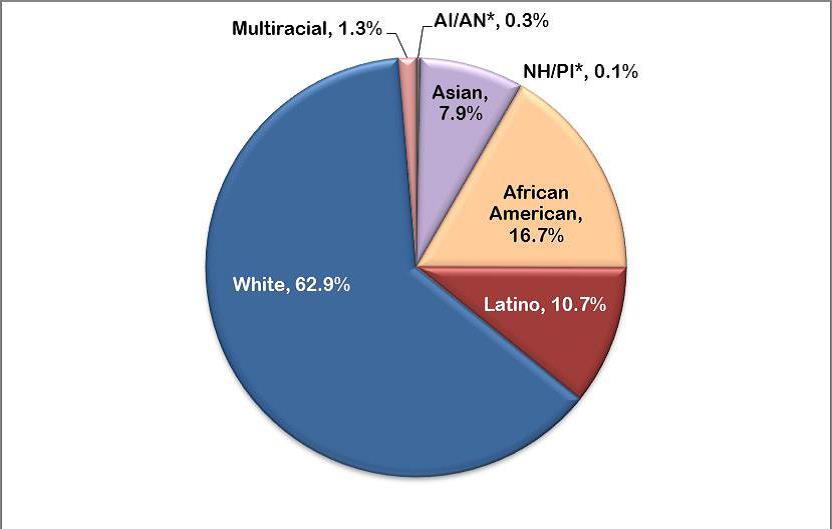 "Research shows that minorities may be concerned, skeptical, or confused about why their race/ethnicity data is being collected, and [they] fear that this data may be used to target them for charging higher premiums or denying care," the HHS report stated.
"Some people believe that they would receive disparate services based on their answers to questions about race and ethnicity," the report continued. "Consumers want assurances that their race and ethnicity data will be confidential, and used for purposes of improving quality."
The data, collected from October 2013 through April, offer policymakers important clues about the nation's evolving compliance with the law, including snapshots of Medicaid and children's health programs, and varying enrollment outcomes by state. The data also offer politicians something to chew on.
Republican candidates are counting on antipathy toward Obamacare to drive their voters to the polls, while Democrats think policies aimed at middle-class fairness will persuade progressive and independent voters to support them.
According to the HHS report, a majority -- 54 percent -- of those who enrolled for health insurance were women. Forty-eight percent of all enrollees were middle-aged: between 45 and 64. Younger people, ages 18-34, made up 28 percent of the ACA enrollment total. And those age 35 to 44 accounted for 17 percent.
On the political front this year, older voters are expected to turn out in larger numbers than younger voters, according to several recent polls. And Democrats consider women, particularly unmarried women, essential to victories in November. Combining a progressive economic message with a discussion about the benefits of the health law and pitching that to women voters has become a chapter in Democrats' playbook, aimed at driving up turnout this year.
When it comes to the first open enrollment phase of the health reform law, the government still has missing data and opaque explanations. HHS said Thursday it won't have information until "later this year" about the number of enrollees who actually paid their premiums, which categorizes them as "insured."
How many previously uninsured people got covered under the ACA? That remains unclear for the time being, according to HHS.
What is the overall wellness profile of those who enrolled for insurance through April? The government does not collect health information from individuals, although data showed health care utilization rose at a 9.9 percent annual rate during the first quarter of the year, according to the White House. As the economy improves, more people are seeking medical care, and more people have insurance that covers care they couldn't afford before without help.
And what happened to 5.5 million people who apparently started applications to buy insurance through the exchanges, and then did not complete the process by the deadline? According to administration officials, it's possible that as many as 5 million people went directly to insurance companies to buy coverage outside the marketplaces. But it's a mystery.
"We don't really have an answer for that right now," Michael Hash, director of the HHS Office of Health Reform, said.