A lot of the commentary about the 2014 elections has focused on the limited opportunities for either party to gain in the House of Representatives. This is true even in the context of a 2010-like wave. In such a circumstance, it is difficult to envision Republican gains topping 20 seats, because there are so few Democrats representing vulnerable districts.
The Senate, however, is a different beast entirely. In a 2010-style environment, Republicans would almost certainly exceed their gain of seven seats that year (counting Scott Brown's special election victory in January). The reason is simple: Democrats dodged a bullet in 2010 in terms of their playing field. Because 2004 had been a very good Republican year, where the GOP had won most of the competitive seats -- early analysis in 2009 suggested Democrats might actually expand on their filibuster-proof majority -- there just wasn't much exposure for the president's party.
But 2014 is different. The Democrats up for re-election this year won their seats in 2008, which was a Democratic wave year. Because of this, there is quite a lot of exposure for Obama's party.
To better visualize this, consider the following chart. On the left is the distribution of Democratic Senate seats in 2010 by Cook PVI, and the result. On the right is the distribution of Democratic Senate seats in 2014, also by Cook PVI. (Note that some states have different PVIs for 2010 and 2014. This is because the intervening presidential election altered the PVIs of many states.)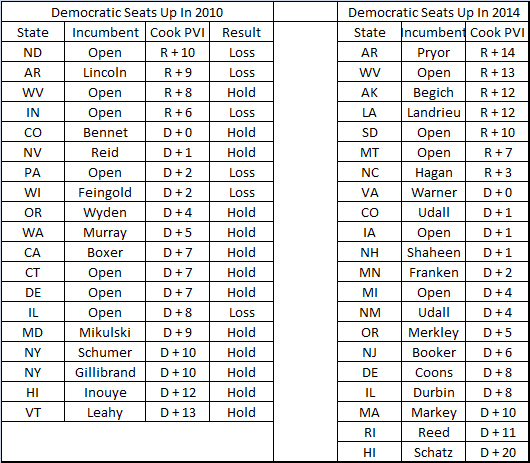 There was something of a "break point" in the PVI around D+2. Republicans won most of the Democratic Senate seats that were more Republican than D+2, and generally lost the rest. This tendency is more pronounced when you take into account that the GOP is widely regarded as having blown great opportunities in Nevada and Colorado with poor candidate selection, and was faced with a uniquely strong candidate in West Virginia Gov. Joe Manchin. This tendency is all the more marked when you realize that the GOP swept six of its own vulnerable Senate seats in the D+2 to R+4 range in that year; it overall won 83 percent of the seats that were D+2 or more Republican.
But there are a lot more seats in this category this time around. If they won 83 percent of the D+2 or better seats in 2014, plus one of the less competitive races (as they did with Illinois Sen. Mark Kirk's seat in 2010), they'd pick up nine seats, and this assumes them losing two or three seats due to poor candidate selection or uniquely strong Democratic opponents. If Republicans don't throw away a few seats a la 2010, winning at a similar rate would produce gains in excess of 10 seats.
But it's still too early. President Obama's job approval rating seems to have ticked up a few points in the past week, and this trend could well continue into 2014. In fact, there's even a scenario where Democrats gain a seat or two in the midterms. If Democrats knock off Mitch McConnell and win the open seat in Georgia, rescue all of their incumbents (remember, Republicans have defeated a grand total of three Democratic incumbents in the past 10 years), guide credible candidates to victory in Montana and West Virginia, and can use former Sen. Larry Pressler to split the Republican vote in South Dakota, they could gain a couple of seats. That is a lot of "ifs," but it required an awful lot of "ifs" for the Democratic gains of 2012 to materialize as well.
Remember, this is all more important for 2016 than it is for 2014. A Republican-led Senate might force President Obama to wield his veto pen, which could change the dynamic in future showdowns somewhat, but that's about it. But Republican losses seem almost inevitable in 2016, when seven Republicans will be running for re-election in states that the president carried twice. If Republicans break even or, worse, lose seats, the Democrats would have a realistic chance of recapturing a filibuster-proof majority. On the flip side, Republicans probably need to win 53 or 54 Senate seats to feel good about their chances of retaining the chamber in 2016.
Here's roughly how I see the seats as of right now, organized by "tiers" of flipping likelihood:
Tier 1A
South Dakota: Tim Johnson (D), retiring. Johnson defeated Pressler in 1996, picking this seat up for Democrats even as Bob Dole carried the state. He won a very narrow re-election in 2002 against now-Sen. John Thune, and coasted to victory in 2008 after surviving a near-fatal stroke. In 2014, however, he's opting for retirement.
Republicans got their dream nominee in former Gov. Mike Rounds, while the two strongest Democrats, former Rep. Stephanie Herseth Sandlin and Brendan Johnson, the current senator's son, both passed. Democrats settled on Rick Weiland, who lost a House race to John Thune in 1996 and a primary race to Sandlin in 2002.
The only real intrigue here is Pressler's entrance into the race as an Independent. It seems unlikely that he could split the Republican vote enough to cost Rounds the win, but it is worth keeping an eye on.
Tier 1B
Montana: Max Baucus (D), retiring. Almost everyone, this analyst included, believed that former Gov. Brian Schweitzer would retain this seat for Democrats. But Schweitzer decided not to run. Democrats have a pair of credible candidates in Lt. Gov. John Walsh and former Lt. Gov. John Bohlinger. But their trouble is threefold. First, they run the risk of tearing each other up in the Democratic primary. Second, they are running in a state that has trended Republican recently, and which Obama lost last year by 14 points.
But the biggest problem is that Republicans got their favored candidate in Rep. Steve Daines. Daines still has to clear a primary against state Rep. Champ Edmunds, but assuming he wins -- and he should -- Daines holds clear leads in polling against both candidates. This race isn't in the bag for Republicans, but it is a tough hold for Democrats.
West Virginia: Jay Rockefeller (D), retiring. In the Montana piece linked to above, I mentioned that the state is a lot like West Virginia: a place that is very Republican at the presidential level but quite competitive at the state level. The dynamics of the open Senate seat here are very similar to those in Montana as well. Republicans got their preferred candidate in Rep. Shelley Moore Capito, but Democrats managed to recruit a credible candidate of their own in Secretary of State Natalie Tennant. Tennant is fully capable of winning this race, but she'd need an improvement in the national environment for Democrats to do so; she trailed Capito by 14 points before the health care rollout.
Tier 2A
Arkansas: Mark Pryor (D). I've done an in-depth analysis of this contest, which still covers most of my thoughts on it. Polling shows a tight race, although a recent poll for conservative group Citizens United shows Rep. Tom Cotton with a larger lead. Pryor isn't in nearly as bad shape as former Sen. Blanche Lambert Lincoln was, but that's small comfort when you consider that she lost by over 20 points. Pryor's biggest concern is that an overwhelming share of the undecided voters really don't like Obama and will be inclined to vote against Pryor unless Cotton is made radioactive. Pryor is easily the most vulnerable incumbent in Congress.
Tier 2B
Louisiana: Mary Landrieu (D). Landrieu won narrowly in 1996 -- her victory was actually contested in the Senate -- and bettered her margin somewhat in 2002 and 2008. But her problem is threefold. First, her narrow 2008 win depended in large part on significant African-American turnout due to Barack Obama's historic run for office. She will have a hard time re-creating this in a midterm election. Second, the white population in the state has moved dramatically against Democrats in the past few years. Third, if she fails to clear 50 percent of the vote on Election Day, she will head to a runoff election, which will likely feature an even more hostile electorate.