Democratic Sen. Max Baucus announced Tuesday that he will retire rather than seek a seventh term in the upper chamber. The news set off a frenzy of speculation about whether Baucus' decision complicates Democratic chances to retain the Senate.
On paper, this should be an easy pickup for Republicans. Mitt Romney won the state by 14 points in 2012, and George W. Bush twice carried it with margins exceeding 20 points. The only Democrat to win Montana in the past 25 years was Bill Clinton in 1992, a victory widely believed to have roots in Ross Perot's strong showing in the state.
But Montana is an odd bird, politically speaking, once you get past the relatively predictable presidential politics. In a way, it is a Western version of West Virginia. Despite the strong Republican lean in top-of-the-ticket races, the state has only elected two Republicans to the Senate since the adoption of the popular vote for those seats. Since the end of World War II, Democrats have controlled the state legislature about as often as Republicans (most recently in the mid-2000s) and Republican majorities have tended to be much smaller than one would expect given the results at the presidential level. Democrats have roughly split the governor's mansion with Republicans during this time.
There are really two keys to understanding Montana politics. The first is geographic. Here is the basic topography of the state: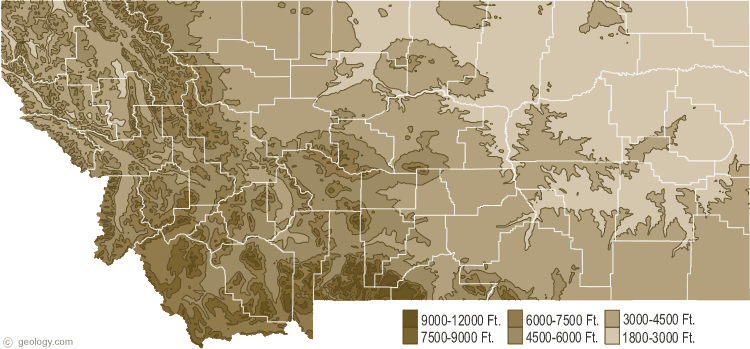 The eastern portion is an extension of the Great Plains. It's west of the 100th meridian, so there isn't a lot of moisture out there; this is an area of cattle ranches and wheat, barley, and sugar beet farming. This part of the state has leaned Republican since the 1940s.
The Rocky Mountains run diagonally across the western third of Montana. This is historically mining and lumber country, with a unionized workforce and a large population of Irish descent; the economy and demographic heritage have favored an orientation toward the Democrats. Montana had two House seats until fairly recently, and Republicans managed to win the western seat only four times from the 1920s until the 1990s (when it became a one-seat state).
The second key -- and probably the most important -- is populism. William Jennings Bryan won 80 percent of the vote here in 1896, and Socialist candidate Eugene V. Debs won over 10 percent of the vote in the four-way race of 1912. Silver Bow (home to the mining town of Butte) and Deer Lodge (with the old "company town" of Anaconda) counties have some of the lengthiest Democratic traditions in the country, dating back mostly uninterrupted to statehood in 1889.
This tradition really does continue through modern times, if you look at the presidential returns closely. Westerner Ronald Reagan, with his right-populist appeals, carried the Big Sky State twice by 20 points. George H.W. Bush, with his East Coast affect, carried it by single digits in 1988. In 1992 it was Perot's seventh-strongest showing, but went for Clinton (then in his "Southern populist" phase); Clinton kept it relatively close in 1996, losing to Bob Dole by just three points.
George W. Bush, unlike his father, was more of a Texan than a Connecticuter, and carried the state twice by comfortable margins against Democrats perceived as affiliated with urban areas. In 2008, as the federal government was pouring money into Wall Street, the state nearly revolted against the Republican Party, re-electing Democratic Gov. Brian Schweitzer with over 60 percent of the vote and almost voting for Barack Obama.
So the key for Democrats in the state is two-fold: Nominate a sufficiently convincing populist who can also appeal to the eastern portions of the state. This was the path taken by Sens. John Melcher, who had represented the eastern portion of the state in Congress, and Jon Tester, a farmer from Havre. It was also the path taken by Schweitzer, who was also born in Havre and who ran a ranch in Whitefish (albeit in the western portion of the state).
These types of candidates are in increasingly short supply in the modern Democratic Party, but there still is one who stands out in Montana: Schweitzer. He ran for the Senate in 2000 against Republican Sen. Conrad Burns and very nearly defeated him. In 2004 he was elected governor, and carefully cultivated an image that can only be described as "Montanan": He favored a bolo tie over traditional neckwear, took his dog with him to campaign events, and vetoed bills with a branding iron. He has described his attitude on gun control as "you control yours, I'll control mine."
He left office overwhelmingly popular, and is reportedly leaning toward a run for the seat. If he does run, he'd probably start out as the favorite, perhaps even more so than Baucus would have (the incumbent has some problematic votes to defend).
Of course, the seat won't be handed to Schweitzer. It's one thing to run for a office in a place that is split politically at the state level; it's another thing to run for federal office in a state that leans the other way at the federal level. People elect governors to fill potholes and keep the schools running; they elect senators on the basis of a wide array of issues, many of which the Democrats have problems with in Montana.
And unlike 2000, when Schweitzer largely stayed above politics and watched Burns nearly self-implode, Schweitzer will be a de facto incumbent here; if the national environment turns against Democrats in 2014, he'll have a much harder time separating himself from national trends.
If he doesn't run, there's no shortage of candidates available for Democrats: the lieutenant governor, secretary of state, auditor, and superintendent of public instruction are all Democrats. But none really has the heft or reputation of Schweitzer, and would probably be more easily tied to the national Democratic Party.
High-profile Republicans seem to be in wait-and-see mode; speculation has drifted toward former House Speaker Mike Milburn or Senate President Jeff Essman. Rep. Steven Daines would likely take a look, but would probably think twice about trying for a promotion after a single term in the House (and think thrice if Schweitzer jumps in). And of course, given the Republicans' history in Senate races, we can't rule out a dark horse that no one has even thought of just yet. (Former state Senate Majority Leader Corey Stapleton and state Rep. Champ Edmunds have already announced their candidacies.)
Bottom line: If Schweitzer runs, the race probably leans Democratic for now. If he doesn't, it's probably a tossup, with an edge to Republicans.