(Note: The following is an excerpt from "Election 2012: A Time for Choosing" by Tom Bevan and Carl M. Cannon. Click here to purchase the second eBook in the series.)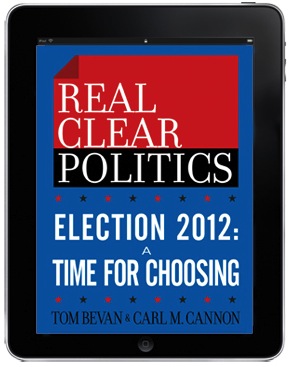 Leading the Republicans in Massachusetts is a challenge, but state party leader Kerry Healey had an inspiration. A Harvard graduate who had earned a doctorate in political science at Trinity College in Dublin, in 2002 she was handed the unglamorous assignment of chairing the Republican Party of Massachusetts. Just a few weeks into the job, Healey had her epiphany.
She watched with interest as Mitt Romney earned rave reviews for getting the troubled and deeply indebted Salt Lake City Winter Olympics back on track. Romney was a successful and photogenic Boston-based businessman who possessed a famous name in a state that embraces political dynasties. He was politically ambitious, too. Romney had been the Republicans' sacrificial lamb against Sen. Edward M. Kennedy in 1994.
But Ted Kennedy wasn't on the ballot in 2002; in any event, the U.S. Senate wasn't what Healey had in mind for Romney. She'd heard whispers that prominent Republicans out west were discussing ways to induce Romney to remain in Utah and run for governor. Knowing he had family ties in New England, and believing he'd be a formidable gubernatorial candidate in Massachusetts, Healey called Romney, who agreed to a meeting. She flew to Salt Lake City.
"Tell me why you think I should come back," Romney told her. "Do you see me as governor of Massachusetts?"
"I see you as president of the United States," Healey replied.
A decade later, and sixty-four months after Mitt Romney filed the papers pursuant to his first presidential exploratory committee, the presidential nomination Healey foresaw in his future became Romney's at last.
He had run in a crowded 2008 field, finishing behind John McCain and, depending on how one configures it, Mike Huckabee. Romney had gotten out early that year, however, before doing any damage to McCain's general-election chances, and he campaigned hard for the Republican ticket despite his disappointment at being passed over as McCain's running mate.
Romney never really stopped running for president after that, laboring tirelessly for GOP candidates in 2010, gathering chits, building alliances, amassing money. Although the 2012 field was even larger, it was not as formidable as in 2008. Romney's 2012 rivals were underfunded or overrated—or simply unready for a national campaign.
From the opening bell in Iowa, however, one Republican candidate consistently exceeded expectations, over-performing his bankroll, his polling numbers, and his reputation. Rick Santorum had been out of office since being soundly thumped seeking reelection in 2006 as a Republican senator from Pennsylvania. Santorum began his presidential quest with little national name identification, nearly nonexistent support in the polls, and a campaign organization so meager its paid staffers could be counted on a single hand.
Yet Santorum was the last man standing between Mitt Romney and the presidential nomination, and he managed to run a creditable and competitive campaign until early April when he finally buckled under the weight of Romney's superior organization.
That afternoon, Santorum announced his withdrawal at the Gettysburg Hotel, the same venue where three weeks earlier he'd invoked the famous battle fought on the hallowed ground nearby. Addressing 1,000 raucous supporters in a big ballroom, Santorum had proclaimed that the blood shed for the cause of freedom was the reason "why we must go out and win this fight!"
Now relegated to a small anteroom and understandably more subdued, Santorum reprised his "fight" lingo to the two dozen journalists and a handful of supporters who'd come to his withdrawal speech. He was several minutes into it before declaring, with the slightest hint of reluctance, "We made a decision over the weekend that while this presidential race for us is over, for me, and we will suspend our campaign effective today, we are not done fighting."
Santorum envisioned aloud—almost resentfully, it seemed—an obvious possible headline in the next day's paper: "Game Over!" This was an allusion to his enthusiastic and much-repeated battle cry on the night of January 3 when he sent seismic waves through the Republican Party by finishing in a dead heat for first with Romney in the Iowa caucuses.
"Game on!" the plucky former Pennsylvania senator shouted as he took the podium that night. And it had been—for three wild months. In turn, the presidential hopes and reputations of Michele Bachmann, Rick Perry, Herman Cain, Jon Huntsman, Newt Gingrich, and, arguably, the Republican Party itself had been diminished by the exercise—with the jury still out on Romney.
Romney, who'd been positioned in 2008 as the more conservative alternative to John McCain, was now the establishment candidate—and one considered "squishy" by movement conservatives. Santorum became the conservative alternative, but for all its insurgent instincts, even in the age of the Tea Party, the modern GOP tends to hand power to the next person standing in line, which is exactly what happened two weeks to the day that Santorum withdrew.
That day, April 24, 2012, Romney swept to victory in five primaries: New York, Connecticut, Rhode Island, Delaware, and Santorum's home state of Pennsylvania. Newt Gingrich's retreat wasn't as strategic: In four of the five April 24 states, the former House speaker finished behind libertarian-leaning Texas congressman Ron Paul, setting in motion Gingrich's own withdrawal and his tepid endorsement of Romney in the first week of May.
The former speaker had several candid discussions with Republican National Committee Chairman Reince Priebus about the RNC's plan to throw the weight of its machinery behind the GOP nominee the moment it was clear who had won. Priebus knew the Gingriches socially as well as professionally, thanks to a Wisconsin connection between Priebus and Callista Gingrich, and in a phone call between the two men after Santorum had dropped out, Priebus apprised Gingrich of his plans for the RNC.
"I want to support you," Gingrich told the chairman. "I want to be helpful to the Republican Party in any capacity that makes sense." Priebus had a similar conversation with Santorum after he bowed out, with similar results. Santorum did not endorse Romney right away, but he was privately reassuring to the Republican Party chief.
"Let me sleep for a couple of days first," Santorum told Priebus. "I need to catch my breath. But I want to do whatever I can to help the team."