On Friday I suggested that Mitt Romney would have a long slog to reach 1,144 delegates, and that he might not get there by the end of the primary calendar. While some readers were thrilled by this suggestion, others were much less ecstatic.
Probably the biggest source of pushback was my assumption that there wouldn't be a huge movement toward Romney -- in other words, that he wouldn't gather momentum in the weeks and months ahead. Indeed, when making my predictions of how things would play out in a particular state, I used prior election outcomes from states with similar demographic profiles as proxies.
Obviously, if Romney does capture some momentum, I've made a poor assumption. And I actually do think there's a reasonable chance that current voting trends won't hold. But, critically, so far we've seen no actual evidence of a stampede toward Romney. In fact, his standing in the RCP Average has declined a bit since Super Tuesday.
We can look at this relative stability another way. First, let's examine the race geographically, updating a map I made earlier: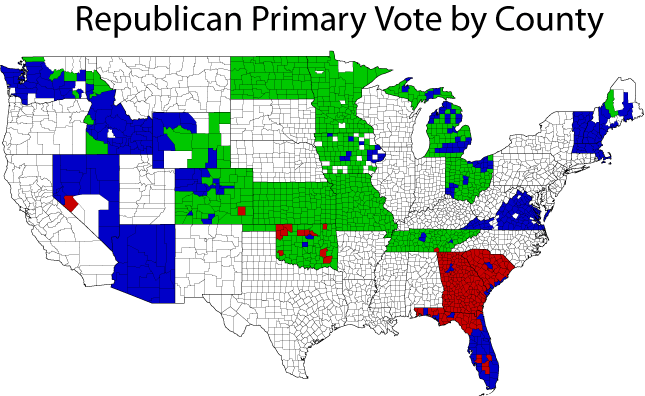 As you can see, Romney has done well in the Northeast and Mountain West, while Rick Santorum has performed well on the Great Plains (you can almost see where the Front Range cuts across Colorado and Wyoming in the Santorum/Romney divide). Newt Gingrich has done well in the Deep South. In the Midwest, Santorum has performed well in the rural areas, while Romney has attracted voters in the urban areas (in Ohio, you can see exactly where the Cleveland/Akron, Cincinnati/Dayton, and Columbus metro areas are located).
This geographic stability, however, is largely the result of demographic forces. Back in early February, shortly after the Nevada caucuses, I developed a regression equation that did a good job of explaining Romney's vote share at the county level in South Carolina, Florida and Nevada (Iowa and New Hampshire were excluded for reasons explained in the article). The equation was based upon each county's share of evangelicals, African-Americans, Latinos, college-educated voters, and Mormons.
Since those races have concluded, 19 additional states have voted. In two of them we don't have good data at the county level (Alaska and North Dakota). In Virginia, Romney and Ron Paul were the only candidates on the ballot. In Idaho, several candidates (including Romney) weren't on the ballot in certain counties. And Missouri hasn't actually held its delegate-selection election yet.
Finally, I'll hold off on analyzing Kansas for now, for reasons I'll get to below.
In the remaining 13 states, 772 counties have voted. These elections have been held in a variety of geographic and demographic locations that weren't included in our South Carolina/Florida/Nevada equation, including caucuses in New England, primaries in the Midwest, and small caucuses on the Great Plains.