President Obama said Thursday in Miami that Republicans who want his job and others in Congress are not telling America the truth.
Whether the president's complaints had merit was not the news. What was noteworthy was how the GOP assaults leveled at the president during the campaign -- and the pile-up of televised presidential debates -- are registering with Obama.
His rejoinders -- largely umbrage at what he dismissed as partisan storytelling -- belied the recent White House bluster to reporters that Obama spends his scarce leisure hours enjoying movies and sports on TV rather than viewing any of the 20 GOP debates among his challengers. (Note to Jay Carney: Your boss wants people to think he's been channel surfing.)
"I don't know if you guys have been watching the Republican debates, in case you need an incentive," Obama told more than 450 people gathered at Miami's Biltmore Country Club on the afternoon following a rollicking GOP candidate debate in Mesa, Ariz.
"Their philosophy is simple," he told supporters, each of whom contributed $1,000 and up to attend the Democratic event. "A few do very well at the top and everybody else is struggling to get by. That's their core vision for America."
Barbed scripts are par for the course at presidential fundraisers, but Obama leveled similarly harsh rebukes at his opponents at a much larger University of Miami event. In a 23-minute speech to more than 1,400 people, he slammed recent suggestions from the leading GOP presidential candidates that he and his policies are to blame for rising gasoline prices.
The president's efforts to address the country's latest pocketbook woes spoke volumes about the danger signs in recent polling, plus his campaign's determination to rebut Republican criticisms in real time, even as Obama declares himself both above the fray and too busy to worry about a general election that is still months away.
The president and his team believe any new drain on voters' wallets into the spring and summer could prove costly at the polls come November. Gas prices nationally are the highest ever for this point in the calendar -- still well before the summer driving season when prices typically rise. The added costs for businesses and consumers could slow economic recovery just when the country is more optimistic that recovery has been taking hold.
The average price per gallon for gas this week is 40 cents higher than it was a year ago, and it is up 20 cents just in the last month, according to AAA.
Most Americans believe gas prices will climb above $4 a gallon in coming months, and most think $5 a gallon is possible, according to a Rasmussen poll released Thursday. Americans blame government regulations and unrest in the Middle East for the price surge, according to the survey.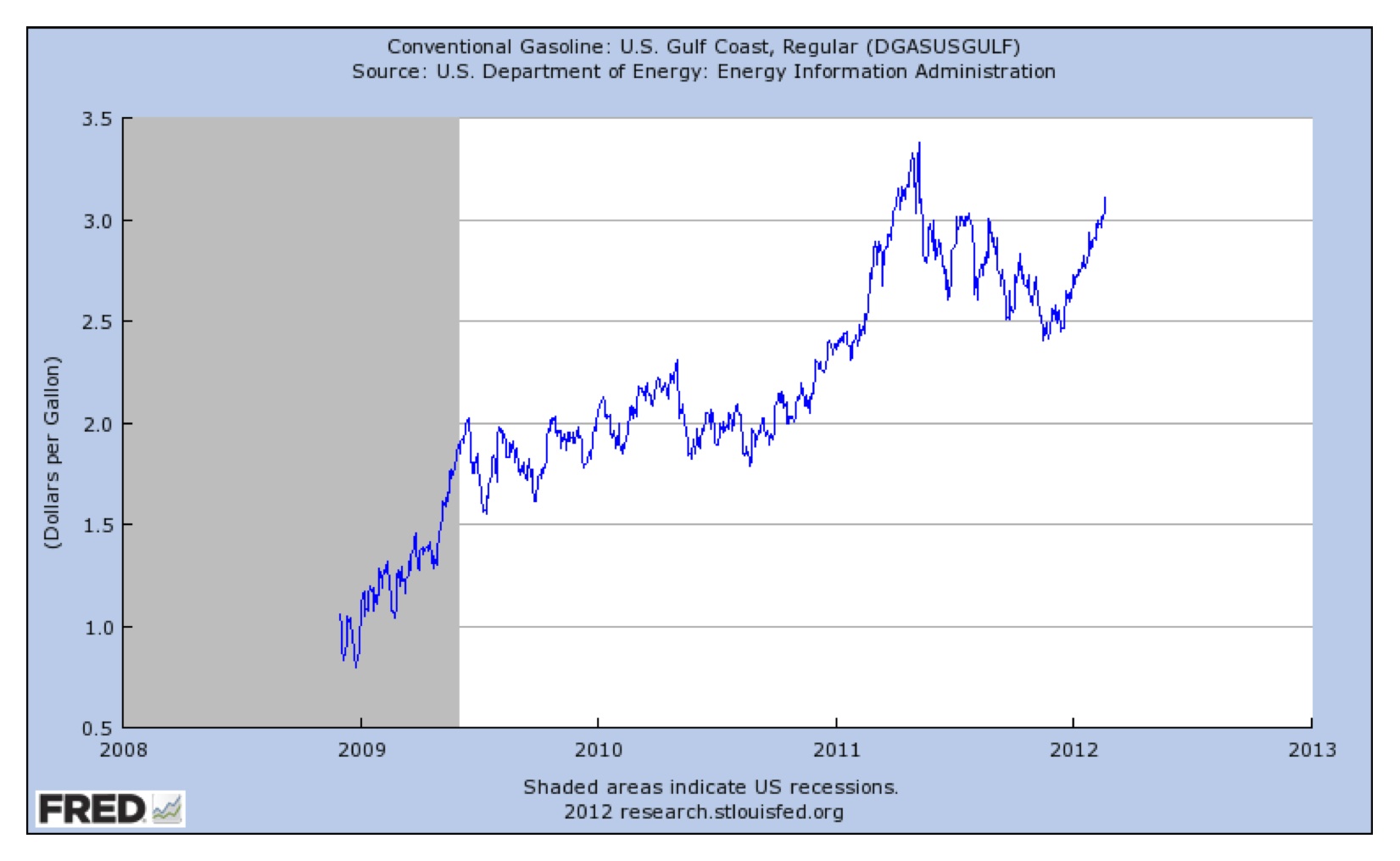 Without naming Mitt Romney, Rick Santorum or Newt Gingrich, the president said twice that "anyone" who tells Americans the country can drill its way out of high gas prices "just isn't telling you the truth."
As Obama started to repeat for a third time his warning about Republicans, a member of the audience bluntly shouted, "They're lying!"